Discover Bodum Bistro porcelain cups with cork sleeves. 17cl capacity.
BODUM®'s BISTRO collection is fashioned from crisp white porcelain banded with colorful silicone grips that work well while looking great.
Hands stay comfortable on the non-slip grip and it wraps below the bottom of the cup, eliminating the need for coasters. A go-to piece for everything from café lattes to iced tea!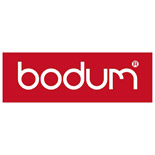 BODUM
Bodum is a family business, founded in Copenhagen by Peter Bodum in 1944. The founder's concept: to develop functional and quality products at an affordable price. Bodum products are sold in 55 countries around the world.
Since 1974, Bodum has produced more than 100 million French Press coffee makers and 30 million teapots.
Maxicoffee Bestsellers Rank
| Bodum 2 Bistro Porcelain Cups with Cork Sleeves - 17 cl | |
| --- | --- |
| Main material | Porcelain |
| Capacity | 60 cl |
| Set of | 2 |
| Diameter (at the top) | 100 mm |
| Diameter (at the bottom) | 70 mm |
| Height | 146 mm |
| Washing | Dishwasher |
| EAN : | 699965382209 |