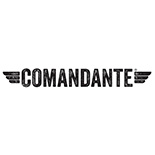 Our Comandante products
Comandante is a German brand specialised in high precision manual coffee grinders .
The C40 grinder can produce a very fine, powder-like espresso grind , something hard to get with a manual grinder.     
Comandante combines real quality engineering with the best materials.
Discover the Comandante range of coffee grinders on MaxiCoffee. 
Comandante | Spare parts - Filters - Seals
Comandante | Manual Coffee Grinder
Comandante | Brushes and Cleaning Accessories
Comandante | Coffee gift ideas
Product(s) 1 to 31 / 31 (in total)