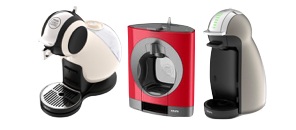 Dolce Gusto Pods and Capsules
Compatible Nescafe® Dolce Gusto® capsules are available on MaxiCoffee. They have been selected based on two simple ideas:
to combine the best coffee results in a cup and to offer total compatibility with Nescafe® Dolce Gusto coffee makers. Choosing our Nescafe ® Dolce Gusto ® compatible capsules means you can be sure of quality, the best prices and a wide choice of drinks. Coffee, lattes, cappuccino/latte, chocolate drinks, etc. There is something for everyone! These compatible Nescafe® Dolce Gusto® pods are a great alternative to the capsules already on the market. Don't forget to order your Dolce Gusto capsule holder .
Dolce Gusto is one of Nestlé's renowned brands, along with Nespresso®, which needs no introduction. It has made a name for itself with the general public by specialising in equipping machines and capsules for a wide range of drinks such as regular coffee, americano coffee, latte or even hot chocolate pods. In 2006, the first machine of the brand, called Melody 3, was discovered, after Dolce Gusto had marketed the first Nescafé soluble coffee in the 1930s.
Today, many products are sold under this brand name because of the professional quality of coffee that is available to everyone in the home. The production of the Dolce Gusto machines was entrusted to Krups because of Nestlé's lack of expertise in household appliances. Nevertheless, coffee was the business of the Nescafé Dolce Gusto brand, which was surrounded by several major brands through partnerships: Nesquik, Ricoré and Starbucks.
Nescafé Dolce Gusto is very careful because it rigorously selects the coffees in its range, giving priority to flavours and aromatic qualities first. It travels the world in search of exceptional coffee and blends it with the utmost care so that everything comes together in a cup. Add to this the fact that the coffee is hermetically sealed in the capsule by a membrane, which guarantees the freshness of the aromas for 12 months. The result in the cup depends not only on the coffee, but also on the fact that the Dolce Gusto capsules are patented in order to offer the best possible coffee extraction.
The combination of the machines and capsules ensures that the right amount of pressure is applied to the beverage and that the amount of water is as even as possible. This way you can enjoy a professional quality coffee extracted with a pressure of 15 bars and where the temperature is ideal. A gustatory pleasure that will also be visual with the presence of a fine and dense crema . There are about thirty creations made in Dolce Gusto , and its expertise will lead you to taste several kinds of drinks, from simple espresso to long coffees and the traditional café au lait and the Dolce Gusto Latte Macchiato...
And if I want to diversify my tasting, what capsules are compatible with Dolce Gusto?
If your question is, can I put other capsules in the Dolce Gusto , the answer is yes! Maxicoffee offers a wide range of Dolce Gusto compatible capsules to allow you to vary your tastings or to meet the desires of each member of the family. There are cheap and reliable Dolce Gusto compatible capsules, just like the Nescafé Dolce Gusto capsules. A wide range of brands ( Starbucks , Café Royal , etc.) and beverages (coffee, flavoured coffee , tea, etc.) are available.
How long do Dolce Gusto pods last?
This depends on several factors:
- The number of coffees: coffee pods are generally used every day or during family gatherings or meetings with friends, so your stock may be quickly depleted. For this reason, you can opt for an automatic subscription or store the capsules in the Dolce Gusto capsule holders in advance.
- The type of beverage: If you have chosen milk drinks, you will need two capsules , one for coffee and one for milk. For an espresso drink, you only need one capsule. They will keep for 12 months thanks to their membrane-sealed capsules if, on the other hand, you are worried about not using them all quickly.
The packaging of the capsules goes in the appropriate waste bin , while the capsules need to be taken to a Dolce Gusto recycling point . Nescafé Dolce Gusto has set up a program in partnership with Terracycle . All you have to do is drop off your capsules at one of the collection points throughout the country (shops, schools, companies or associations). You can find out more about Dolce Gusto recycling here .