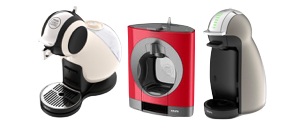 Find Dolce Gusto pods on MaxiCoffee. All our coffee pods are selected to ensure great taste and compatibility with your Dolce Gusto machine .
Browse our selection of Dolce Gusto pods at the best prices: coffee  drinks, cappuccino/latte , chocolate drinks , tea etc... There is something for everyone!
You will find a wide range of Nescafé Dolce Gusto pods but also compatible options from brands like Café Royal , Starbucks , Carte Noire ...