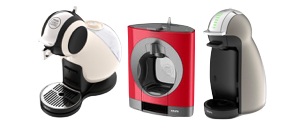 Dolce Gusto Pods and Capsules
Compatible Nescafe® Dolce Gusto® capsules are available on MaxiCoffee. They have been selected based on two simple ideas:
to combine the best coffee results in a cup and to offer total compatibility with Nescafe® Dolce Gusto coffee makers. Choosing our Nescafe ® Dolce Gusto ® compatible capsules means you can be sure of quality, the best prices and a wide choice of drinks. Coffee, lattes, cappuccino/latte, chocolate drinks, etc. There is something for everyone! These compatible Nescafe® Dolce Gusto® pods are a great alternative to the capsules already on the market. Don't forget to order your Dolce Gusto capsule holder .