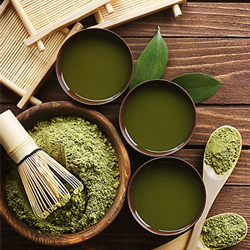 Best selection of Matcha teas
Matcha green tea is a high quality, fine green tea powder. Tea leaves are carefully grown.
Shortly before the harvest, the tea plants are covered to shelter them from the sun and to darken the leaves called Tencha. This process reduces green tea natural bitterness and increases the level of catechins (antioxidants). Matcha tea is traditionally used for tea ceremonies in Japan. Now very popular, it is drunk with milk or used in cooking. Matcha is considered to be a superfood because it contains many health virtues. Discover our wide selection of teas and infusions on Maxicoffee.com.
Product(s) 1 to 6 / 6 (in total)