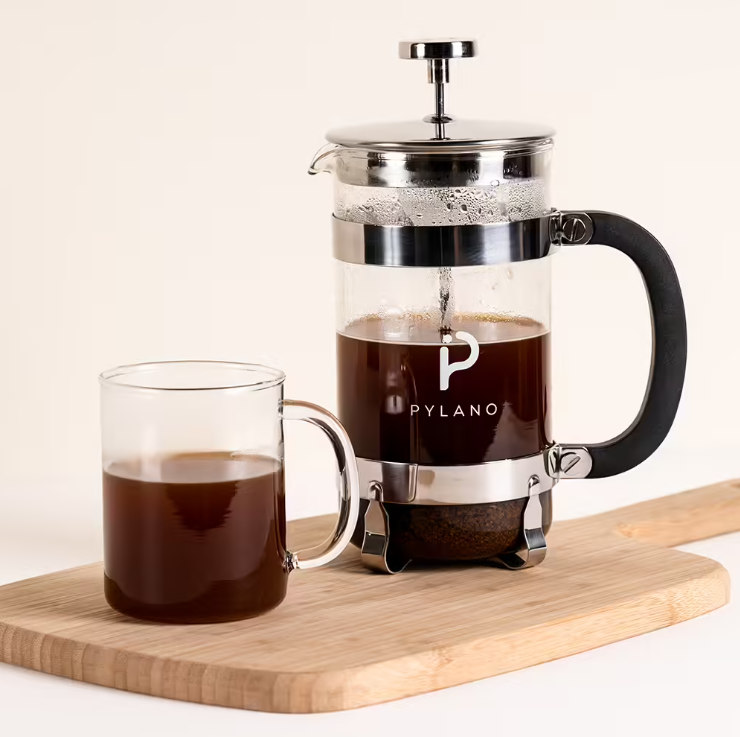 Our cafetiere selection
Searching for your next cafetiere because you love to have a cup of robust and flavourful coffee in the morning ?
If so, our selection of cafetiere coffee makers is sure to delight! On MaxiCoffee, we've chosen the top-ranked cafetieres that make brewing at home easy and enjoyable. Whether it be for yourself or a special friend, find out why these countertop machines are one of the most popular methods for getting your caffeine fix.
Product(s) 1 to 39 / 62 (in total)
If you're a coffee lover who enjoys a smooth and full-bodied freshly brewed coffee , a cafetiere coffee maker , also known as a French press , is the perfect choice to elevate your coffee experience. Wondering why you should opt for a cafetière over other coffee brewing methods? Let us break it down for you.
Unlike traditional drip coffee makers , the cafetiere allows you to brew coffee that retains the natural oils and flavors from the coffee grounds . This results in a richer and more aromatic cup of coffee, satisfying even the most discerning taste buds. Plus, it's a simple and easy-to-use brewing method, making it ideal for both beginners and coffee connoisseurs.
Coffee Beans: The Heart of Great Cafetiere Coffee
To achieve the best results with your cafetiere , using high-quality coffee beans is essential. At MaxiCoffee , we understand the significance of premium coffee beans in crafting a delightful cup of coffee. That's why we offer a wide selection of carefully sourced coffee beans from renowned coffee-growing regions around the world.
Whether you prefer a single-origin coffee with distinct characteristics or a well-balanced blend, we have something to satisfy every coffee enthusiast's palate. From fruity and floral notes to chocolaty and nutty undertones, our range of coffee beans caters to diverse taste preferences.
Ground Coffee and Convenience
For those days when you're short on time or simply want a quick and hassle-free coffee fix , pre-ground coffee is a convenient option. At MaxiCoffee , we offer a selection of ground coffee that's expertly crafted to deliver exceptional taste and aroma.
Our ground coffee selection includes various roasts and flavours to cater to different preferences. From medium to dark roasts , each bag of ground coffee is carefully sealed to preserve its freshness . Enjoy the convenience of a pre-ground coffee pack without compromising on quality.
Grinding Coffee Beans for Your Cafetiere
The key to getting the most out of your cafetiere is freshly ground coffee beans. Grinding your coffee just before brewing preserves the coffee's essential oils and flavors, resulting in a more vibrant and aromatic cup.
Investing in a high-quality coffee grinder is worth every penny. MaxiCoffee offers an array of top-notch coffee grinders that cater to different grinding preferences. Whether you prefer a manual hand grinder for a personalized touch or an electric grinder for convenience, we have options to suit your needs.
One of the perks of a cafetiere is its effortless cleanup. After enjoying your delicious coffee , you might be wondering if it's safe to toss your cafetiere in the dishwasher for quick and easy washing. The good news is, most cafetières are dishwasher-safe!
However, we recommend checking the manufacturer's guidelines to ensure that your specific cafetiere is dishwasher-friendly. Some models may have delicate parts that are better suited for handwashing. With proper care and maintenance, your cafetiere will continue to provide you with exceptional coffee for years to come.
Can a Cafetiere Be Used For Tea?
Absolutely! While cafetieres are synonymous with brewing coffee, they can also be used to make a delightful cup of tea. If you're a tea enthusiast, the cafetiere offers a convenient and efficient way to steep loose-leaf tea leaves or herbal blends.
Using a cafetiere for tea is simple - just add your tea leaves or herbs, pour in hot water, let it steep for your desired duration, and then press down the plunger to separate the leaves from the infused liquid. The result is a flavorful and aromatic tea that you'll love sipping on.
What Is the Best Material for a Cafetiere?
When it comes to selecting the perfect cafetiere, the material plays a significant role in your brewing experience. At MaxiCoffee, we offer coffee presses in various materials, each with its own advantages.
Stainless Steel: Known for its durability and sleek appearance, stainless steel cafetieres are a popular choice. They are resistant to rust and dents, making them ideal for both home and travel use.
Glass: If you prefer an elegant brewing process where you can witness the magic of coffee infusion, a glass cafetiere is an excellent option. Glass allows you to see the coffee and tea swirling, giving you a visual treat.
Plastic: For those looking for a lightweight and budget-friendly option, plastic cafetieres are worth considering. They are also less likely to shatter if dropped.
Ultimately, the best material for your cafetiere comes down to your personal preference and brewing needs.
How Long Do Cafetieres Last?
With proper care, a well-made cafetiere can last for many years. Regular cleaning and maintenance are crucial to ensure its longevity. Stainless steel and glass cafetieres, in particular, tend to be more durable and less prone to wear and tear.
When you buy a cafetiere from MaxiCoffee, you're investing in quality craftsmanship, which translates to a longer lifespan for your brewing companion. We take pride in offering high-quality cafetieres that you can enjoy for years to come.
At MaxiCoffee , we're passionate about providing you with the finest coffee brewing tools, and our collection of cafetieres is no exception. We understand the importance of a perfect cup of coffee , and that's why we curate a diverse range of top-notch cafetieres for your enjoyment.
A Wide Choice of Cafetiere
Whether you prefer the classic stainless steel cafetiere or the elegant glass design, we have something to suit every coffee lover's taste. Our selection includes various sizes and styles, so you can find the perfect cafetiere that complements your coffee routine.
A Perfect Pairing: Cafetiere and Coffee Grinder
For the ultimate coffee brewing experience, pairing your cafetiere with a high-quality coffee grinder is a winning combination. Grinding your coffee beans just before brewing ensures maximum freshness and flavor extraction, elevating your coffee to a whole new level.
MaxiCoffee offers a diverse range of coffee grinders . Whichever option you choose, you'll be delighted by the aromatic and flavorful coffee that results from grinding your beans to perfection .
Advantages When You Buy a Cafetiere on MaxiCoffee
When you choose MaxiCoffee as your go-to source for cafetieres, you're not just getting a coffee maker; you're investing in an enhanced coffee experience. Here are some of the advantages of buying your cafetiere from MaxiCoffee:
Quality Assurance: We only offer cafetieres from reputable brands known for their craftsmanship and dedication to excellence.
Expert Advice: Our team of coffee enthusiasts is here to assist you in finding the ideal cafetiere that aligns with your preferences and needs.
Fast and Reliable Delivery: We strive to get your cafetiere to your doorstep as quickly as possible, ensuring you don't have to wait long to enjoy your favorite brew.
Customer Satisfaction: Your satisfaction is our priority, and we're committed to providing top-notch customer service to ensure your shopping experience is smooth and enjoyable.
Upgrade your coffee routine with a premium cafetiere from MaxiCoffee and experience the pleasure of brewing a perfect cup of coffee every time. Browse our collection and find your ideal cafetiere today!