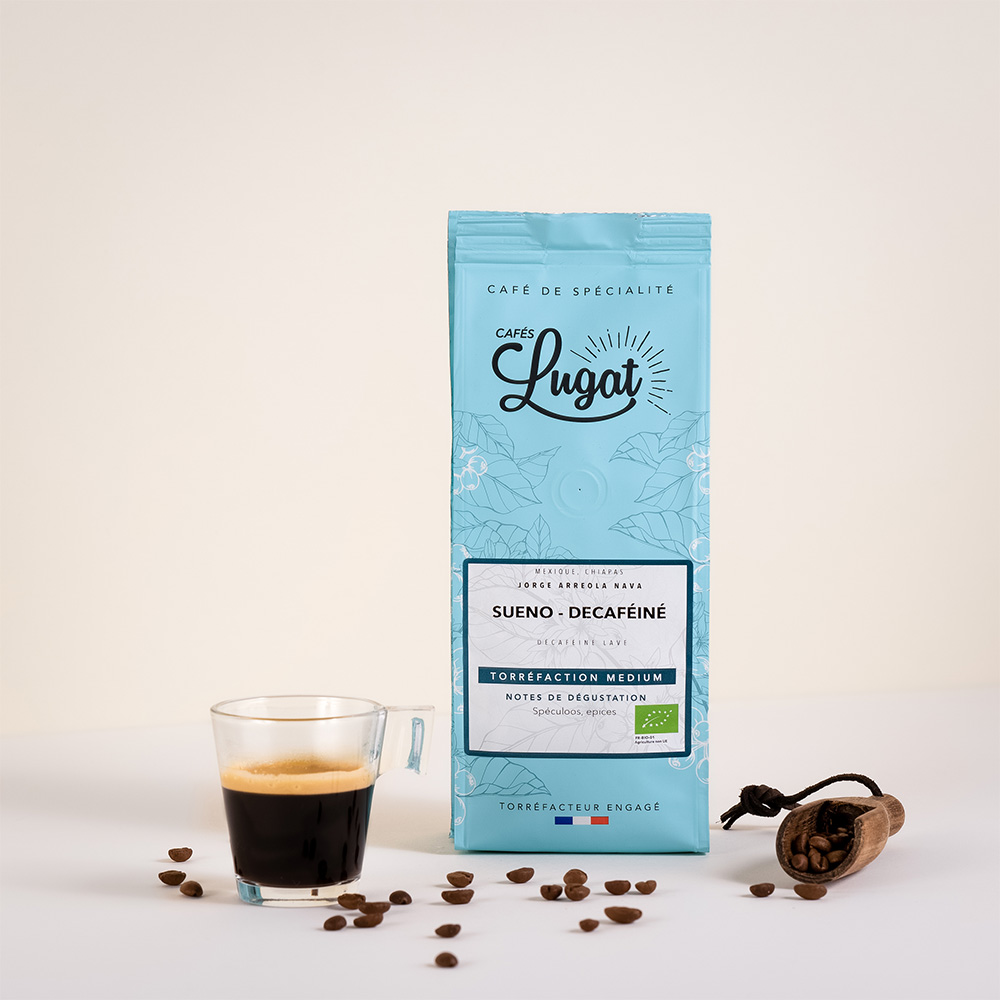 Our selection of decaf coffee beans
Decaf Coffee Beans is the perfect choice for those seeking a delightful caffeine-free experience.
Sourced from the finest plantations, these 1kg beans deliver a rich and smooth taste that will awaken your senses. Crafted with precision, our decaffeinating process retains the authentic flavours, ensuring a cup of perfection every time. Find out our whole selection of coffee beans .
At MaxiCoffee, we take pride in offering an extensive range of decaffeinated coffee beans . Whether you're a coffee enthusiast or a reseller catering to your customers' needs, our collection has something for everyone.
Each batch of decaffeinated coffee beans is meticulously chosen from the world's finest coffee-growing regions. We work closely with trusted suppliers to ensure exceptional quality and flavor in every cup. With MaxiCoffee , you can savor the richness and aroma of coffee without the caffeine.
Decaf Coffee Beans: Unparalleled Quality for Perfect Taste
Our decaffeinated coffee beans are selected with utmost care to provide you with an exceptional taste experience. We understand that even without caffeine, coffee lovers demand nothing less than perfection in their cup.
With our decaffeinated coffee beans, you can relish a rich and smooth flavor profile that rivals regular coffee. Our precise roasting process enhances the natural flavors, resulting in a well-balanced and satisfying brew. Whether you prefer a light or dark roast, we have the perfect decaf beans to match your taste preferences.
Choosing the Best Decaf Coffee Beans
Selecting the right decaffeinated coffee beans can elevate your coffee-drinking experience. Consider these factors when choosing the best decaf coffee beans for a delightful taste:
Origin: Opt for decaf beans sourced from renowned coffee-growing regions for superior quality and distinct flavors.
Roast Level: Determine your preferred roast profile, whether light, medium, or dark, to find the perfect flavor balance.
Certification: Look for decaf coffee beans certified as organic or fair trade, ensuring ethical sourcing practices.
By considering these factors, you can make an informed choice and enjoy a delightful cup of decaf coffee every time.
Benefits of Our Decaf Coffee Beans
When you opt for our 1kg packages of decaf coffee beans, you not only relish a delectable coffee experience but also enjoy several advantages:
Caffeine-free: Ideal for those sensitive to caffeine or seeking to limit their intake.
Versatility: Use decaf coffee beans to create various coffee-based beverages, including lattes, cappuccinos, and more.
Anytime Enjoyment: With decaf coffee, you can savor your favorite cup of joe at any time of the day without worrying about sleep disturbances.
Health-conscious Choice: Decaf coffee contains antioxidants and other beneficial compounds contributing to overall well-being.
Experience the goodness of decaf coffee beans and indulge in guilt-free coffee enjoyment.
When it comes to purchasing 1kg packages of decaf coffee beans, MaxiCoffee stands as the ultimate choice. Here's why:
Extensive Selection of Decaf Coffee Beans
At MaxiCoffee, we understand that coffee preferences vary. That's why we offer an extensive range of 1kg packages of decaf coffee beans. From single-origin beans to blends, we have something to satisfy every taste and preference. Explore our diverse selection and discover your new favorite decaf coffee.
Special Offers and Regular Promotions on Decaf Coffee Beans
At MaxiCoffee, we believe in making your coffee-buying experience even more enjoyable. That's why we provide special offers and regular promotions on our 1kg packages of decaf coffee beans. Stay tuned to our website and subscribe to our newsletter to stay updated on the latest deals, ensuring you get the best value for your money.
Choose MaxiCoffee for your decaf coffee bean needs and elevate your coffee experience with quality, variety, and great savings.