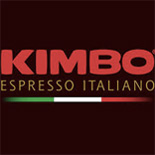 Our selection of Kimbo products
Discover the range of coffees from Italian brand  Kimbo .
Each coffee has been carefully selected and roasted in Italy to deliver intense, powerful aromas. Enjoy a coffee with good body and a lingering aftertaste. 
Kimbo has a range of ground coffees , coffee beans , Nespresso-compatible capsules and FAP capsules.
Discover the Kimbo range on MaxiCoffee.com.
Kimbo | Made in Italy
Kimbo | Nespresso pods
Kimbo | Coffee Beans
Kimbo | All Ground Coffees
Kimbo | Lavazza Espresso Point Capsules
Kimbo | Cheap Coffee Beans
Kimbo | Coffee gift ideas
Kimbo | Italian Coffee
Kimbo | Dolce Gusto pods
Product(s) 1 to 33 / 33 (in total)