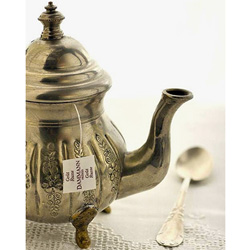 Everyone needs a teapot!
The teapot is undoubtedly the most important object you will need to enjoy your tea ! 
Most teapots have an integrated infuser / filter so your loose leaf tea can develop during the steeping process and release all the wonderful flavours. Simply place your desired amount of loose leaf tea in the filter, pour in your boiling water and leave to brew for as long as you need. Some teapots even have a French press system.
Our selection includes glass teapots, porcelain teapots,  cast-iron japanese teapots ... Here, you will also find lovely stovetop kettles .
If you are looking for a tea infusers , mugs with a tea infusers or a tea infusing travel flask , we have a special Tea infusers and filters section too!
Product(s) 1 to 79 / 96 (in total)
But which teapot to choose?
Cast Iron Teapot
Cast-iron teapots are a standard item for many tea lovers . Their Zen-like shapes and natural colours evoke the traditional Japanese tea ceremony. The main advantage of this range of teapots ?  The cast iron keeps the water temperature, so the tea stays hot longer . You can choose between cast iron teapots from China and cast iron teapots from Japan : you will find a large choice here :-)
By the way, for those who are wondering: the difference between these two types of metal teapots lies in the quality (better quality for the Japanese cast iron) and in the manufacturing process (unique for the Japanese cast iron: each mould is shaped by hand and destroyed after each production to guarantee a unique model ).
Hence the higher cost for a Japanese cast iron teapot .
These teapots are great for lovers of Japanese culture!
Glass Teapot
Lovers of contemporary design will love these trendy teapots made of borosilicate heat resistant glass .
These borosilicate glass teapots combine simplicity and design for a (very, very) reasonable price ! The width of the infusion basket allows for an optimal deployment of the tea leaves ensuring an explosion of aromas for the perfect cup of tea
Who is this type of teapot for?  Tea purists who want an optimal infusion because these teapots are ideal for preserving all the aromas of the tea leaves!
Stainless Steel Teapot
Similar to the cast iron teapot, stainless steel teapots have the advantage of being very resistant . Contrary to cast iron however, stainless steel is a lot lighter and shinier, some may find it more aesthetically pleasing with a more modern and sleek look .
Take the "Lucas" Stainless Steel Double Wall Teapot by Viva Scandinavia for example. It has a small sleek and minimalistic design with a 1L capacity and high quality side handle , perfect for your morning brew. This stainless steel teapot has a double wall allowing your brew to stay hot for extended periods of time!  Stainless steel teapots may not always be dishwasher safe however, it's always better to play it safe and handwash when possible
Tea Press
The tea press teapot is a quick and easy way to make tea and works with both tea leaves and tea bags, green tea,   black tea, or any tea you'd like. The brewing with this range of teapots is efficient and the design of the tea press is well done, perfect for afternoon tea .
The best-known brand in the coffee and tea pots sector is BODUM : we are literally in love with this brand's pure style and Scandinavian touch!
This type of teapot is for tea lovers who want to combine speed , ease of use and design !