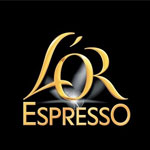 With L'Or Espresso you'll discover a wide range of quality coffees from L'OR Maison du Café : Coffee beans, Tassimo T-discs, capsules compatible with Nespresso machines and Philips L'Or Barista machines. 
L'Or Espresso is now an institution that needs no introduction in the coffee industry.
Discover their range of tasty coffees on MaxiCoffee.