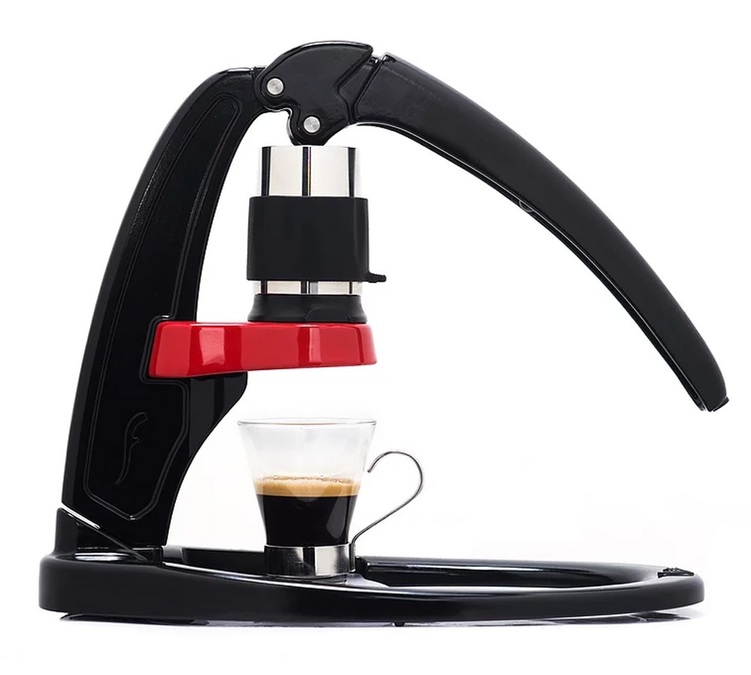 Choose your next manual espresso machine
Authenticity, quality, design ? You will find the perfect object amongst our selection of manual espresso machines .
Discover unique espresso machines that do not need electricity to produce a magical espresso ! At MaxiCoffee, you will find beautiful manual espresso machines from high quality brands such as Wacaco, Rok, Aram, Flair ... Also, take a look at our range of manual coffee grinders if you like freshly ground coffee beans . Alternatively, you can also choose from our range of ground coffee.
Product(s) 1 to 19 / 19 (in total)
What is the difference between manual and automatic espresso machines?
Fully Automatic : these espresso machines are entirely automated . They grind, they tamp, they pull a shot, and some even steam your milk for you. All so you can achieve a cup of coffee at the push of a button . They require little skill from the user but also a large bank balance before investing in one!
Manual or Lever : these espresso machines are fully manual . You do everything from grinding and tamping, to using a lever to generate the pressure required to pull your shot . While they need a high level of skill , they allow complete contro l over every aspect of the brewing process. 
But don't forget the Semi Automatic : You grind, tamp and steam the milk. But the machine has a mechanical pump that generates the 9 bars of pressure required to pull the shot of espresso . These are the most common coffee machines and require a medium level of skill. These espresso makers are partly automated.
Who should buy a manual espresso machine?
So you may be wondering, with all the advanced technology around, why would anyone want to go back to brewing espresso manually ? They are fiddly and time-consuming to use. Despite this, hobbyist baristas love the idea of mastering the art of espresso . Manual espresso machines offer complete control over the taste of their espresso, and a good technique can culminate in some pretty tasty shots . This does come, however, at the cost of convenience . 
Manual espresso machines require a steep learning curve , and it can be difficult to produce consistent results. Despite this, there is something gratifying about handcrafting a perfect shot of espresso - the satisfaction is real people! So if you are an espresso enthusiast and love the process of brewing coffee and tinkering with different aspects of brewing, a manual espresso machine may be for you!
 What are the types of manual espresso machines?
There are two main types of manual espresso machines: Spring Piston vs. Direct Lever . 
Spring Piston machines have a calibrated spring in the group head that pushes the hot water through your grounds for you. To cock or compress the spring, you pull down the lever . Once it is released, the spring slowly comes back up, forcing water through the grounds as it does so.  Spring Piston machines are more convenient  to use, offering a semblance of repeatability and consistent pressure from shot to shot.
Direct Lever machines use a lever to apply pressure to the water as it extracts espresso . The user has total control over the pressure applied.  Direct Lever machines are the favored type among espresso enthusiasts as they allow complete control over pressure, speed and volume extracted. However, they require a lot of work and practice to master, and it can often be challenging t o replicate good shots.