The Zoku Single makes the same delicious pops you've come to expect from your Quick Pop Maker, and in as little as seven minutes! Each maker can freeze up to three pops before returning it to your freezer. Pick your favorite color and your favorite recipe, this Zoku Single is all about you.
Includes: 3 Sticks, 3 Drip Guards, 1 Single Quick Pop Maker, and 1 Super Tool
Care: Hand Wash
Capacity: The unit can make up to 3 pops before refreezing the unit again.
Dimensions: 4.1" x 4.5" x 4.75"
Model: ZK110
BPA and phthalate free.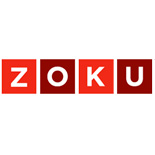 Zoku
For years Zoku has been dedicated to providing unique and functional products for the home. Creativity and innovation are the key principles behind the brand, creating products than can help us live a better and simpler life. Chocolate Stations, ice-cream makers, accessories...All Zoku products are both practical and stylish!
Maxicoffee Bestsellers Rank