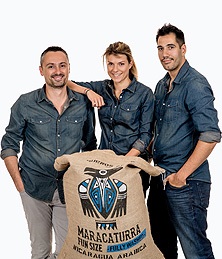 Over the years, Cafés Lugat has selected the coffees globally recognised as "specialty coffees" : flawless coffees where the traceability allows for a precise quality control. We've compiled these coffees into 3 different designations :
- Label Coffee : high quality coffee corresponding to a growth region
- Terroir Coffee : coffee quality known for the particularity of its region
- Micro-Lot : coffee from an identified lot known for its exceptional quality or a specific caffeinated drink
These coffee beans are also available in different grinds.
Product(s) 1 to 36 / 36 (in total)
Did you know? Specialty coffees, also called "Gourmet Coffees" are defined as high quality coffees (coffees with no or nearly no flaws), easily traceable (production region, farm and lot used) with controlled growth (climate study, manual and selective harvest, transformation process). It's the SCAE (Specialty Coffee Association of Europe) who defines and improves the standards of specialty coffees.
The analogy with wine and grand cru wines can be quickly made since we have focused on high-end products. Beyond the quality requirements in place, roasters are encouraged to be innovative, to create a new experiences and an excellent coffee.