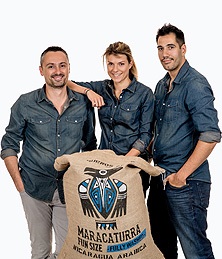 Over the years, Cafés Lugat  has selected coffees globally recognised as specialty coffees : they are single-origin / pure origin quality coffee beans with a t raceability  that allows for a precise quality control. The green coffee beans are roasted by real craftspeople to unleash the greatest flavour potential. Specialty coffees are rated over 80/100 by the Specialty Coffee Association. We've compiled these coffees into 3 different designations  :
- Label Coffee :   high-quality coffee beans grown in a specific geographic location 
-  Terroir Coffee  : Coffee grown in a region with particularities that will impact on the characteristics of the coffee beans such as a specific climate, soil composition etc...
-  Micro-Lot  : Coffee grown on an identified small plot of land known for its exceptional qualities. Micro-lot coffees are therefore produced in smaller amount than a regular harvest, making them "limited edition" coffee beans
You can also find Specialty Coffee in the Ground Coffee section.