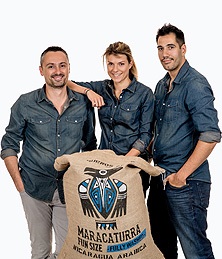 MaxiCoffee presents a selection of Coffee Beans from some of the most popular brands: Illy , Lavazza , Kimbo , Pellini , Lucaffé, Passalacqua, Mokador Castellari, Cosmai Caffè, Café Royal, Delta Cafés etc... 
Discover our Specialty Coffee section for exceptional coffee beans, including Microlot Coffee!   
Find all the different types of coffee beans to suit all your needs: Decaffeinated coffee beans , Organic coffee beans , Italian coffee beans , from mild to very strong intensity, with fruity or more chocolatey notes...
We also offer freshly roasted coffee beans by some of the best artisan roasters such as Cafés Lugat , freshness and quality guaranteed!