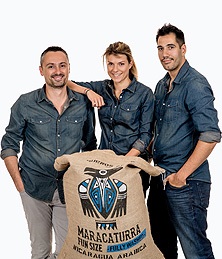 MaxiCoffee presents a selection of coffee beans from some of the most popular brands  : Illy, Lavazza, Pellini, Mokador Castellari, Cosmai Caffè, Café Royal, Delta Cafés etc... 
Discover our Specialty Coffee section for exceptional coffee beans !  
We also offer coffees roasted by some of the best artisan roasters such as Cafés Lugat : coffees crafted and roasted by our own team of roasters. Freshness and quality guaranteed!