Nespresso® Compatible Capsules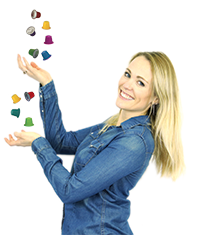 Our Nespresso® compatible pods selection
Discover the ultimate coffee experience with our selection of Nespresso® compatible pods !
Immerse yourself in a world of rich flavours and captivating aromas thanks to our vast selection of pods specially designed for your Nespresso® machine . There's something for every taste and in a wide range of formats, while offering unrivalled quality. Discover all our capsules and pods on MaxiCoffee.
Product(s) 1 to 39 / 345 (in total)
Nespresso® is a brand that changed coffee, with a cool history and creative ideas. It's famous for great coffee pods and taking care of the planet.
Nespresso®, the Coffee Leader
Nespresso® is the boss in the world of coffee capsules. People everywhere love it because it's super good. It uses smart machines with great style to make perfect coffee. Nespresso® has lots of coffee types, so you can have your special coffee.
Eco-Friendly Coffee Pods
Nespresso® doesn't just make great coffee; it cares for the Earth. It gets coffee responsibly and helps the people who grow it. Being green is a big deal for Nespresso®.
Smart Nespresso® Coffee Machines
Nespresso® makes amazing coffee machines. They keep the coffee fresh and tasty in small capsules. The machine also makes a creamy top for your coffee. People who love good coffee really like these machines.
If you like Nespresso® and want cheaper, Earth-friendly options, try compatible capsules. They make your daily coffee more delicious and good for the planet.
Lots of Great Coffee Brands for Nespresso®
MaxiCoffee is proud to have many great brands like Starbucks, L'Or, Carte Noire, and Café Royal. They're coffee experts, so the coffee is awesome. We pick the best ones for Nespresso®.
Lavazza Pods for Nespresso®
Lavazza makes special capsules for Nespresso®. They use the best coffee beans and make the coffee taste amazing. You can enjoy top-quality coffee at home.
Illy Pods for Nespresso®
Illy
makes special capsules for Nespresso® too. They use the best coffee and make it taste rich and smooth. It's like Italian coffee with a modern twist.
Tons of Coffee Choices with Your Nespresso® Machine
Nespresso® capsules come in lots of flavors and strengths. You can have super strong coffee or a light one, or even a creamy cappuccino.
Organic Coffee Pods for Nespresso®
Try Green Lion Coffee's organic pods for Nespresso® if you like great coffee and care about the Earth. They grow the coffee responsibly and roast it in France.
Decaffeinated Coffee Pods for Nespresso®
If you want good coffee without caffeine, we have decaffeinated capsules. They taste great and won't keep you up at night.
In short, Nespresso® capsules make coffee special with new ideas and care for the planet. You can also try other brands with compatible capsules, which are cheaper and better for the Earth. Your coffee choices are endless!