Nespresso® Compatible Capsules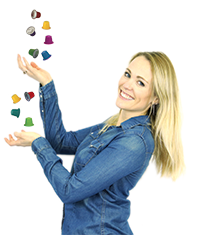 Why opt for Nespresso® compatible
coffee capsules?

In this section dedicated to capsules for Nespresso® coffee machines, you will find adaptable capsules to vary your tasting.
The 100% compatible Nespresso® capsules are the assurance of an optimal coffee cup. These capsules are compatible with all domestic machines, except the Vertuo machines. Find a wide choice (brands, packaging, professional or domestic use) without compromising on quality and price. And if you can't find anything among brands like Cafés Lugat , Pellini or Carte noire, what about refillable capsules to put your coffee in?
Product(s) 1 to 39 / 345 (in total)
You've taken the first step by opting for a Nespresso® coffee machine and you're now hesitating in front of the large choice of coffee capsules that are available to you? I'm going to help you find the right coffee capsule so that you can enjoy your cup of coffee right away. Don't worry, the capsule compatible with your machine exists. Please note that Nespresso® compatible pods are compatible with all domestic machines except Vertuo machines. 
The first possibility, and inevitably the most engaging, is to opt for a Nespresso® coffee capsule. In addition to its considerable advantages, being a top-of-the-range coffee and its reliability, the varieties of Nespresso® coffee capsules have the particularity of being very extensive. Indeed, you will be served in terms of diversity of beverages and will be able to find a simple short coffee as well as a vintage coffee if that's your thing. However, there are a few things that can tip the balance, such as its cost: the average price of a capsule is 0.39 cts according to a study revealed this year. In addition, the fact that it is selectively distributed and that the aluminium capsule is not in line with current environmental concerns.
Yes, they are all equally advantageous and sometimes even offer very appreciable additional features. You will find many brands called Nespresso® or Nespresso® pro compatible. Among them are coffee capsules from world-famous brands such as Carte Noire or Café Royal , which have more or less reproduced the ranges so loved by George Clooney. The result is close, but the copy is never as good as the original, as the bitterness tends to develop due to the darker roast. The best value for money, but also choice, would be to go for the Nespresso® compatible capsules which will not only differentiate themselves by more concrete concerns or actions, but also by an undeniable quality:
Through their commitment
By way of comparison, Miscela d'Oro and Destination take care to control the traceability of their products by choosing organically grown coffee, while at the same time Terramoka is developing the first zero-waste Nespresso® capsule certified home compostable.
Through their quality craftsmanship
Brands such as Café Lugat or Cafés Tchanqués are constantly highlighting the black gold according to its origins through in-depth work in which traditional roasting plays an essential role. In this respect, we no longer need to introduce Italian coffee from Lugat, which continues to be a favourite amoung Nespresso® coffee machine users.
Compatible or original Nespresso® capsules, whatever the case, you will always be able to find the Nespresso® capsule that suits you best thanks to the wide choice of coffee capsules that the site offers. And if despite all this you don't succeed, you can always try the Nespresso® refillable capsules, which offer compatibility with the coffee of your choice.