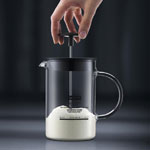 Use a milk frother to top your drinks (coffee, tea, hot chocolate) with a beautiful milk froth.
Easy to use, your milk frother will quickly become your ally in the kitchen to add a little extra to your favourite milky drinks !     
Find our selection of the best milk frothers brands at MaxiCoffee : Barista & Co, Bialetti, Bodum, Judge and more!
Product(s) 1 to 10 / 10 (in total)