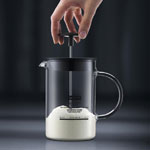 Use a milk frother to top your drinks (coffee, tea, hot chocolate) with a beautiful milk froth.
Easy to use, your milk frother will quickly become your ally in the kitchen to add a little extra to your favourite milky drinks!     
Find our selection of the best milk frothers brands at MaxiCoffee :  Bialetti , Bodum , Judge and more!
We also have a selection of milk containers to fit your bean-to-cup machines too ( Jura, Delonghi, Nivona ...).