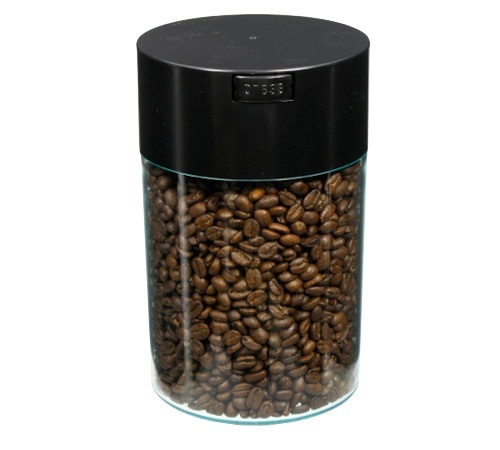 Discover our selection of jars and containers
Whatever food you want to store, it's important to find the right container for it!
One thing is certain, your coffee, tea, pasta or other dry ingredients will be well kept. We have created a selection of coffee/tea or chocolate boxes to suit all styles and budgets. Several specialist brands are available such as Oxo, Tightvac, Melitta, Bodum or Alessi. Discover also all our coffee and tea accessories .
Airtight coffee cans
Some of our tins have a significant advantage: they are airtight! This allows your food to be isolated from the air and protected from humidity. With airtight coffee/tea cans, you can keep your food twice as long as with a standard container.
With the classic airtight system, the lid of the can has a silicone seal to prevent outside air from entering. If you choose a can with opaque walls, you will get an even longer shelf life for foods that need to be kept away from light.
Air-vacuum cans
There is another system of hermetic stainless steel coffee cans: vacuum. This is an even more efficient option. When you close the lid, either by pushing it or by pressing a button, the air inside is evacuated and the food is preserved even better. You may have already bought or vacuum-packed food with a specialised machine, but vacuum-packed food preservers are an even faster and more environmentally friendly solution. You can keep your coffee and other dry foods fresh for a long time without affecting their taste.
Glass bottles and cans
We also offer a selection of glass and borosilicate glass bottles. They have several advantages, but can also be less effective for storage.
They are very aesthetic and can also be used as a decorative element in your kitchen thanks to their design and contemporary styles. By creating an assortment of several boxes of equal or different sizes, you can dress up your interior. You can also have fun playing with the colours of the food you put inside. Bodum offers a range of tins with pinkish copper lids that are very trendy!
Some are 100% airtight, others are not, but in any case, it is not advisable to fill them with food that should be kept away from light. You will also find it easier to keep track of what is in each box, and you can anticipate when to refill them when they become empty. They are perfect for storing your coffee pods!
Although they may be more fragile than a metal, plastic or stainless steel can, the borosilicate glass is reinforced and therefore stronger.
Coffee bag clips
If you want to keep your products such as ground coffee, coffee beans or tea in their original packaging and prolong their shelf life, there is a solution for you. We offer clamps that firmly seal the bags to minimise air circulation inside. They won't be as effective as airtight boxes, but they are very practical and allow you to change them as you wish. And they look great too!
If you are still hesitating about ordering your preserving boxes from MaxiCoffee, let us put your doubts to rest. We offer a wide range of products, in all styles and with many options to choose from. Use the filters to find what you need. We have selected only quality products and brands that we trust.
Moreover, the prices are accessible to everyone and all budgets can find what they need. At MaxiCoffee, ordering in sets and assortments has a real advantage. When you order in sets, you get a 5% discount on the total price. To discover even more accessories, take a look at our coffee and tea accessories category .