Capsules for Dolce Gusto®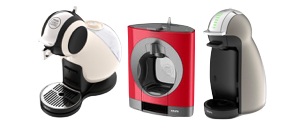 Capsules compatible with Nescafe® Dolce Gusto® machines, available on MaxiCoffee. All our capsules are selected based on two simple ideas : combining the best end-result in your cup while ensuring compatibility with your Dolce Gusto machine.
Choose among our selection of capsules compatible with Nescafe® Dolce Gusto®, at the best prices : coffee drinks, cappuccino/latte, chocolate drinks, tea etc... There is something for everyone!
You will find a wide range of capsules from Dolce Gusto but also alternative options to capsules already on the market from brands like Café Royal, Oquendo, Corsini Caffè ...
Product(s) 1 to 79 / 184 (in total)