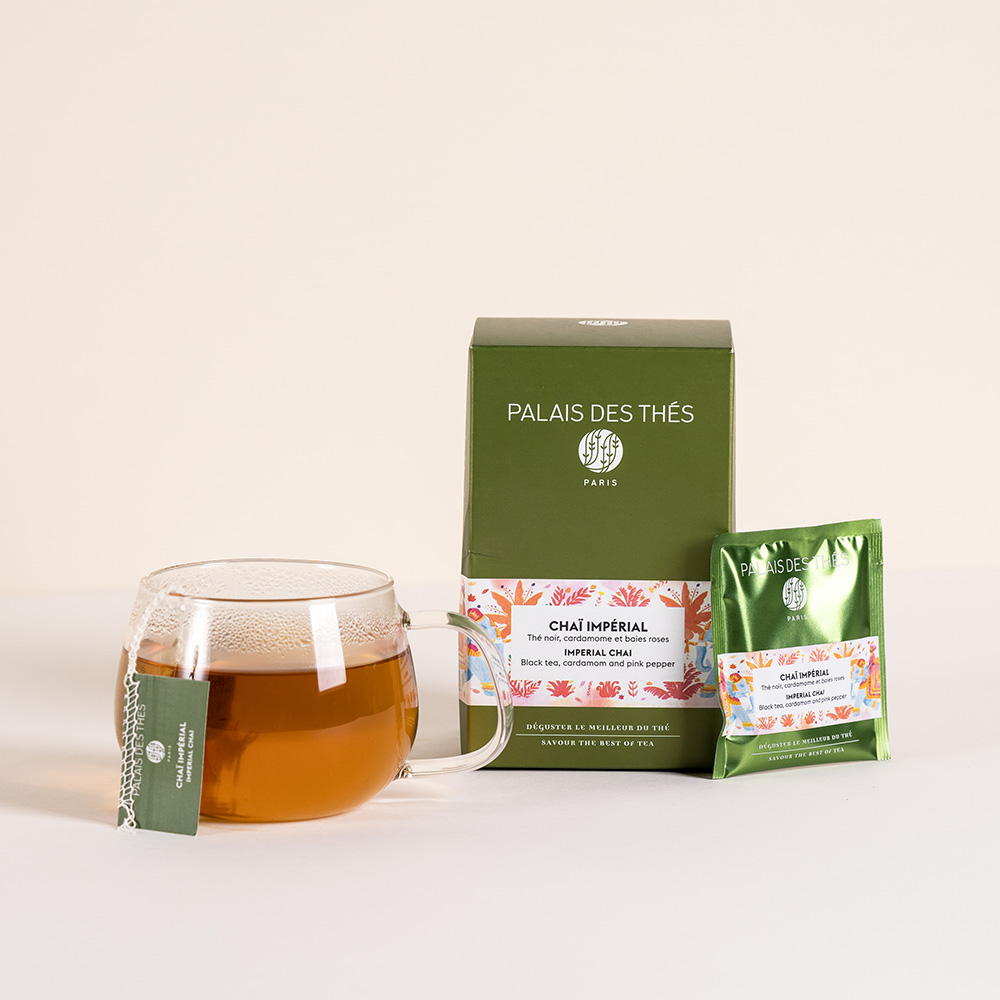 Our Selection of Chai Teas
Chai Tea is rich in invigorating benefits . Let's enjoy THE perfect winter drink !
"Chai" means "tea" and "Masala" means "spices". Masala Chai is a traditional Indian drink . People in Indian love it and drink it all day long. This drink is prepared from an Assam tea base infused in hot milk. Various spices are added to this base: ginger, cardamom, cinnamon, cloves, nutmeg, star anise. Find all other tea references on MaxiCoffee.
Product(s) 1 to 8 / 8 (in total)
What is Chai Tea ?
Chai tea is a fragrant, spiced tea brewed with milk and sugar with chai spices. Originating in India, chai tea has become a popular beverage around the world. It is often served with milk and honey and can be enjoyed hot or iced.
Chai tea is made by simmering black tea leaves, commonly Indian Assam, with a blend of spices including cardamom, cinnamon, ginger, cloves, black pepper, and fennel. Other ingredients such as nutmeg, star anise, and allspice can also be added. The tea and spices are boiled together with milk and sweetener, such as honey or sugar, and then strained. The resulting beverage is full-bodied, spicy and sweet.
Chai has been a part of Indian culture for centuries. It is served in homes and at special occasions, and is often considered a health tonic. It is believed to aid digestion, reduce inflammation, and boost the immune system.
Chai tea is becoming increasingly popular in the West, where it is served in cafes, restaurants, and is available in tea bags or concentrate form in stores. It is often enjoyed as an alternative to coffee and is a great way to start the day or to take a break in the afternoon. The sweet and spicy flavours make it a comforting beverage to enjoy.
How to make Chai Tea ?
It is a great way to experience the traditional flavours of India and can be a refreshing and warming beverage for any occasion.
To make the chai recipe , start by heating 1 cup of water in a small saucepan. In boiling water, add 1 teaspoon of loose-leaf black tea and 4 to 6 cardamom pods and stirs. Allow the mixture to boil for 5 minutes, then add 1 cup of milk. Bring the mixture to a simmer and let it cook for 10 minutes. After 10 minutes, strain the tea and discard the tea leaves and cardamom pods. Add 2 teaspoons of sugar or honey to the strained tea, and stir until it is fully dissolved. If desired, add a pinch of ground ginger, cinnamon, and/or cloves to the chai tea. Pour the tea into two mugs and enjoy.
Chai tea is a wonderfully aromatic and flavorful beverage that is simple to make. For a spicier drink, increase the amount of cardamom pods or add extra spices. If you prefer a milder tea, reduce the time that the tea is cooked or decrease the amount of spices. You can also use a black tea bag instead of loose-leaf tea if desired. Enjoy your homemade chai tea !
Benefits of Chai Tea
Chai tea offers a wide range of health benefits that make it a great choice for anyone looking to improve their lifestyle. From improving digestion and boosting the immune system to increasing energy levels and aiding in weight loss, chai tea can help improve overall health and wellbeing.
Chai is often made with black tea, milk, and a mixture of spices such as cardamom, cinnamon, ginger, and cloves. The combination of these ingredients gives chai tea a unique flavor and many health benefits. The caffeine present in the black tea provides an energy boost, while the milk helps to soothe the stomach and provide necessary nutrients. The spices are full of antioxidants, which help to reduce inflammation and improve immunity.
It can help improve digestion, as the spices stimulate the production of digestive enzymes and help to reduce bloating and indigestion. It can also help to improve metabolism and aid in weight loss, as the combination of the spices and the caffeine helps to increase fat burning.
Chai tea is also a great source of antioxidants, which can help to reduce the risk of heart disease and cancer. The antioxidants also help to reduce inflammation, which can help to reduce the risk of arthritis and other joint-related conditions.
Overall, chai tea offers a wide range of health benefits that make it an excellent choice for anyone looking to improve their lifestyle. From boosting energy levels and aiding in weight loss to improving digestion and immunity, chai tea is a great addition to any health and wellness routine.
A wide selection of Chai Tea on MaxiCoffee
MaxiCoffee offers a wide selection of chai tea , with a variety of flavours and chai tea blends. Whether you prefer a version of masala chai, or want to try something different like green or rooibos chai, you'll find something to suit your taste. All of our chai teas are sourced from high quality producers and brands, so you can be sure you're getting the best cup of chai. Enjoy a comforting cup of tea to start your day or to wind down after a long day. With so many options available, you're sure to find something you love !