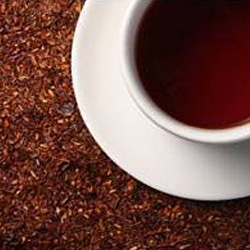 Our Rooibos Tea Selection
Discover our exceptional selection of Rooibos on MaxiCoffee.
Rooibos (or red bush) contains no caffeine and can therefore be consumed at any time of the day! Enjoy our selection of Rooibos for a moment of comfort and indulgence. In loose-leaf, in bags, in tins... Don't wait any longer to enjoy a cuppa and share it with your friends and family. We also offer a wide selection of teas and infusions , plain or flavoured, on MaxiCoffee.
Product(s) 1 to 39 / 40 (in total)
Rooibos is a plant that grows in South Africa and is even considered the country's national drink. There are two versions, red rooibos and green rooibos which are part of the same plant, only the fermentation is lighter on the green rooibos version. It is often compared to tea, as it is brewed in the same way. However, rooibos contains no caffeine and can be consumed at any time of the day without disturbing your sleep.

Rooibos (also known as red tea or redbush) is infused in hot water, either plain or with a mixture of fruits, flowers or spices. There are a multitude of possible combinations to enhance this plant. Rooibos tea can be enjoyed hot or cold, and even iced in summer!
The Benefits of Rooibos
This caffeine-free drink has become a worldwide favourite due to its antioxidant benefits. It is a child-friendly drink, as it does not contain any theine or caffeine. They can therefore enjoy iced rooibos as an alternative to sweetened iced tea or soda. Introduce your whole family to this healthy and tasty drink.

Clinical studies have recognised its health benefits such as antiseptic and anti-inflammatory properties, rich in free radicals that help fight chronic diseases and infections. In addition, it is also considered a natural tonic and can help reduce stress and improve digestion.

Its characteristic reddish colour is recognisable among all brewing plants, green tea will have a golden colour, it can be confused with black tea if not brewed thoroughly. Rooibos tea can be enjoyed by pregnant women due to the absence of theine, it can replace your tea, the advantage is that rooibos does not absorb iron and it does not contain theine. During pregnancy, it is important to choose organic rooibos.
The Unique Taste of Rooibos Tea
Rooibos has a unique and subtle flavour that works well with many flavours and aromas. It is often described as a blend of red fruit, vanilla and a touch of honey. It can be enjoyed hot or cold and is perfect for a moment of relaxation.

Rooibos can be drunk at any time of the year, and is a perfect match for fruit such as Comptoir Français du Thé's African Dream blend with its citrus and red fruit notes, which is an excellent base for an iced tea. For the winter season, a favorite is the Carrot Cake from Dammann Frères, this blend full of spices will help you start the autumn and winter.
We have selected several types of rooibos for you to drink as an infusion throughout the year. You will find the biggest brands that have started to create recipes with this plant. Find a wide selection of blends on MaxiCoffee.com