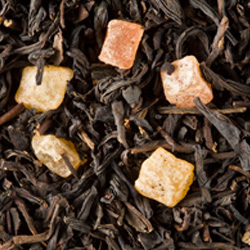 Our selection of caramel tea
Before even tasting it, caramel tea intoxicates us with its alluring and irresistible smell! Often paired up with black tea , caramel tea is characterful and tasty.
This sublime blend has a beautiful roundness and sweet notes.  It really is a special treat !  Caramel-flavoured tea is perfect at any time of the day but it is especially nice with a piece of cake or biscuits. Taste a bit of dessert in a cup ! 
Product(s) 1 to 13 / 13 (in total)
Looking for a tea that's both sweet and satisfying? Try caramel-flavored tea! This blend of tea leaves and caramel flavorings creates a deliciously rich and creamy taste that's perfect for any tea lover.
What Makes Caramel-Flavored Tea So Special?
Caramel-flavored tea is a unique blend of high-quality tea leaves and natural caramel flavorings. The caramel flavorings can be sourced from real caramel, caramel extract, or natural flavorings to create a rich and indulgent taste that's sure to satisfy your sweet tooth.
Benefits of Drinking Caramel-Flavored Tea
Not only does caramel-flavored tea taste amazing, but it also offers a range of health benefits. Here are some of the benefits of drinking this delicious tea:
Boosts Energy: Caramel-flavored tea contains caffeine, which can help improve your focus, concentration, and energy levels.
Rich in Antioxidants: Tea is known for its high antioxidant content, which can help protect your cells from damage caused by free radicals.
Promotes Relaxation: The soothing aroma and flavor of caramel-flavored tea can help calm your nerves and promote relaxation.
Helps Digestion: Tea contains natural compounds that can help promote healthy digestion and prevent bloating and other digestive issues.
Caramel-flavored tea can be enjoyed in a variety of ways. Here are some tips on how to get the most out of your tea experience:
Use High-Quality Tea Leaves: To get the best flavor and aroma, use high-quality tea leaves that are fresh and free from any contaminants.
Steep Your Tea Properly: Steeping time and temperature can greatly affect the taste and aroma of your tea. Follow the instructions on the packaging or experiment with different steeping times and temperatures to find your perfect cup.
Add Milk and Sugar: Caramel-flavored tea can be enjoyed on its own or with a splash of milk and a touch of sugar to enhance the sweet caramel flavor.
At Maxicoffee.com, we offer a wide selection of high-quality caramel-flavored teas from the world's best tea brands. Our tea experts carefully select and curate each tea to ensure that you get the best possible tea experience.
Whether you're looking for black, green, or herbal caramel-flavored tea, we have something to suit every taste and preference. Order now and indulge in the sweet and delicious taste of caramel-flavored tea today!