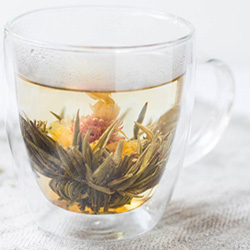 Best selection of herbal teas
Herbal teas and Fruit infusions blend plants, flowers, pieces of fruit, leaves, roots and/or stems, to be enjoyed hot or cold , perfect in any season!
They are famous for their great taste but also their health benefit s as they can provide you with energy, help with relaxation or detoxify depending on the infusion . Herbal teas and Fruit infusions are a concentrate of active ingredients. Discover well-known drinks based on chamomile, verbena, linden, rooibos, hibiscus and many amazing blends. Find a ll other tea drinks on MaxiCoffee.
Product(s) 1 to 39 / 73 (in total)
Herbal tea is a moment of relaxation that can be adapted to each of your needs. It can help you sleep, relieve aches and pains, or help you digest. Herbal teas are a mixture of plants that are often used to soothe ailments. Other times they were made from medicinal plants. They are also easy to prepare, the infusion is made at 100 degrees so a traditional kettle is enough.
However, it is important not to let the water boil too long so as not to burn the leaves. The advantage of infusion, unlike green tea, is that it can be consumed throughout the day. It is always preferable to consume organic herbal teas so as not to ingest negative substances that will diminish the benefits of the plants you have carefully chosen.
Which herbal tea for sleeping?
We generally think of a chamomile-based tea, but it does not help you fall asleep, it has a soothing effect. To help you sleep, it is preferable to drink an infusion based on lime and verbena, a classic. To benefit from the advantages of an infusion for falling asleep, it is advisable to drink a large cup between 30 and 45 minutes before bedtime.
Which herbal tea to lose weight?
The main quality of an herbal tea for slimming is its diuretic effect, which helps to eliminate toxins and hydrate your body. For this, it is important to find an herbal tea that suits you, because the more you like it, the more you will enjoy drinking it. The plants to favour are cinnamon, liquorice, mint and turmeric. If you want to target a flat stomach, you should favour herbal tea with ginger, vervain and fennel. When preparing your drink, it is advisable to cover the infusion to preserve the benefits of the plants.
Which herbal tea for the liver?
Copious and rich meals put a lot of strain on your liver, which has the task of regulating your metabolism and eliminating toxins. However, as with any organ, it needs to be detoxified to continue functioning. Taking care of your liver is important during the holiday season and drinking herbal teas with a specific choice of plants can help. Plants that allow detoxification are dandelion or nettle leaves.
Which herbal tea to drink during pregnancy?
Pregnancy is a wonderful time that can sometimes be disrupted by "small" discomforts... Constipation, water retention, sleep problems can visit you at the beginning of your pregnancy. Even though pregnancy only lasts 9 months, these little annoyances can spoil this magical moment. There are natural solutions to relieve you, for example, you can infuse mallow flowers to relieve constipation or urinary discomfort.
Red vine is recommended if you have heavy legs or vervain and lime blossom can help with digestion and sleep. For nausea, you can make a thyme infusion, but you should not drink more than one cup a day. You can also brew mint and ginger if the nausea persists throughout the day.
The benefits of a thyme tea
You can cure several ailments with a thyme infusion. It can relieve a sore throat thanks to its antibacterial power. To do this, brew some thyme and add a spoonful of honey to the preparation. During festive periods, when copious meals follow one another, a thyme infusion can help with digestion. To do this, infuse a teaspoon in 15 cl of water. You will soon feel relieved.
Ginger tea
Ginger tea also has health benefits. You can brew ginger in bags, fresh, grated or thinly sliced. It is important to choose organic ginger. Its use will allow you to take advantage of its detoxifying and slimming powers and it will strengthen your immune system. The infusion can be enjoyed hot in winter or iced in summer, a few slices in the carafe of your preparation will add a spicy side.
At MaxiCoffee, you will find herbal teas for all tastes, whether fruity or herbal. We have selected the best recipes and exceptional blends. The biggest brands offer their infusions, from Dammann Frères, English Tea Shop to Comptoirs Français du Thé. Each one will know how to find the flavours you like and will make you want to drink more and more infusions.
Also, find your favourite herbal teas in different formats: loose (Dammann Frères or Comptoir Français du Thé) or in bags (Clipper, Kusmi Tea, etc...).
We are the coffee specialists, but tea and infusions are also very important to us. You will find a wide range of tea from the best brands.