MaxiSummer Special Offer:
Spend 39£ in this special summer selection and get a FREE MUG*!
(only 20 left!) +
10% OFF
with code
10SUMMER
- until 08/08/22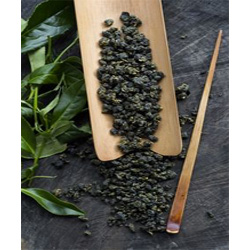 Oolong tea (also called blue tea) is a traditional Chinese tea. Oolong is a type of tea with incomplete oxidation (halfway between green tea and black tea). This partial oxidation gives this tea its special colour. Tea leaves are kept whole and then rolled. You can get different flavours with Oolong tea, depending on the tea variety and its production method... For example, you can get a cup of Oolong tea with sweet and fruity flavours or fresh and floral notes. 
Oolong also has medicinal benefits: it helps prevent diabetes, lowers cholesterol, improves cardiovascular health, helps with weight loss, improves cerebral function, strengthens bones and relieves skin problems.
Discover our large range of natural or flavoured Oolong teas on Maxicoffee.com!