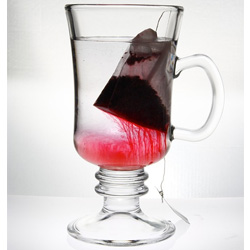 Red Fruit Tea is THE perfect tea to go with your snack for a sweet break.
It can of course be enjoyed at any time, but a real cup of
tea flavoured with red fruit
 pairs up perfectly with a pastry or cupcakes.
This reddish coloured tea has slightly acidic notes. Red fruit tea is particularly rich in vitamins, perfect for an energy boost.
Pieces of fruit (often strawberries, cranberries, raspberries or cherries) are blended with green, black or herbal teas and infusions for a delicious fruity drink. 
Discover our range of red fruit teas on MaxiCoffee.com