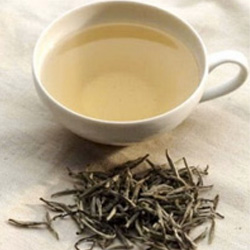 White tea is made of the first leaves and buds from the tea tree, so-called fine picking. White tea is a tea which has undergone very little changes, it is only slightly oxidised and the leaves are whole (they are not rolled, crushed etc.). White tea takes its name from its silk-like down that covers the buds.
White tea retains the properties of fresh leaves better than any other kind of tea. It contains numerous health benefits particularly for fighting obesity. White tea is a good fat burner and contains a lot of polyphenol, an antioxidant.
White tea crystalline liquor is a refreshing drink, often drunk in China in the summer. Find our range of white tea on Maxicoffee.com.