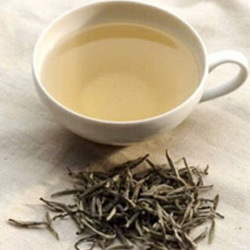 Discover our selection of white teas
White tea is one of the most raw teas, still almost in its natural state.
It undergoes very little processing and therefore retains all of its original properties. The many iconic tea brands that offer white tea have all created very interesting and unique teas. White tea pairs very well with fruity, floral or gourmet ingredients, making for surprising and never disappointing blends. Discover also all our teas available at MaxiCoffee .
White tea , which originates from the Fujian region, is made from the young leaves of the tea plant (Camellia sinensis) and the bud. White tea is a tea that has undergone very little modification . It is only slightly oxidised and the leaves are whole (not rolled, crushed, etc.).
White tea gets its name from the silk - like fuzz that covers the buds. White tea retains much more of the properties of fresh leaves. The benefits of white tea are well known. It helps to fight obesity: white tea is a good fat burner and contains a lot of polyphenol which is an antioxidant. In general, drinking white tea is a good way to maintain cardiovascular health .
The rarest white tea is "Bai Hao Yin Zen" (meaning "Silver needles with white down" in Mandarin). During plucking, only the bud and the first leaf are picked. Most of the great white teas come from China , but you can also find them in India and Sri Lanka.
At MaxiCoffee, you have a choice of many brands. Dammann Frères , George Cannon , Comptoir Français du Thé , The English Tea Shop , Kusmi Tea and many others ! All these brands are known worldwide for their expertise in tea and flavour combinations.
Then, there are very different tasting notes from one tea to another. For lovers of fruity and refreshing tea (which can be drunk hot or cold), there are blends with elderflowers or red fruits.
There are also blends that are much more rich , without being sickening. For example, Dammann offers a white tea with iced chestnut and pear, for a real moment of comfort . We also offer white teas with cinnamon and chocolate.
By ordering your white tea from MaxiCoffee, you benefit from many advantages . Once you have found the blend(s) that will make your heart skip a beat, choose the " subscription " option. You can choose how often you receive your tea, and you also get a 5% discount on the total price.
Ordering from MaxiCoffee also means that you can choose from a wide range of quality teas and infusions. Our selections bring together the best products at great prices . We try to offer all kinds of teas, both classic and original, from small and large brands, so that you can always discover innovative blends.
Please check out all our teas.