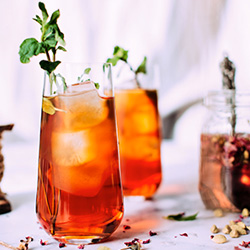 Discover our Selection of Hibiscus Teas
Hibiscus tea or Carcadet is a drink made from hibiscus flowers combined with fruit peels and pieces.
Hibiscus tea is characterised by a high concentration of vitamins , a reddish or pinkish colour , an enchanting fragrance and acidulous notes . This thirst-quenching drink can be enjoyed both hot and cold, without theine or tannin, and can be consumed by adults and children alike! It can be used as a base for a cocktail or mixed with fruit juice. Find all our teas and herbal teas on MaxiCoffee.
Hibiscus Tea coming back in stock soon
Product(s) 1 to 17 / 17 (in total)
Its Origins
Carcadet in French, or "karkandji" in Arabic, "bissap" in South Africa and also called Guinea sorrel, is a theine-free drink made from hibiscus flowers, and sometimes peels and pieces of fruit depending on the region. It can be drunk hot or cold and can be combined with other drinks such as cocktails. Its refreshing and sweet taste blends easily with many flavours.

It is widely consumed in West Africa, especially at the end of the year, and has spread to many parts of the world. It is also consumed in the form of syrup, which can be added to all types of drinks (except caffeinated and milky ones). In some cultures, hibiscus tea is even associated with divination and love!
the Benefits of Hibiscus Tea
This infusion has many health benefits. The hibiscus fruit is rich in citric acid and vitamin C. Its flowers have real anti-inflammatory, antioxidant, diuretic and antispasmodic powers. Hibiscus tea helps to fight against kidney stones and increased cholesterol levels. It can be used to alleviate all the ailments that bother you on a daily basis!

In addition, it is known to have revitalising, toning and slimming properties. No more tiredness that weighs you down during the day or feelings of heaviness. Do your body and your head good by consuming drinks with fruity notes.
How to Prepare a Hibiscus Infusion?
If you are not a big fan of infusions, rediscover them in a new light with a hibiscus infusion! Pour two teaspoons of hibiscus infusion into 25cl of boiling water. Leave to infuse for about 15 minutes, then remove your leaves. Sweeten if you wish, and drink!

Nothing could be easier. You will obtain a pretty red infusion. You can also drink this iced tea in summer to refresh and hydrate yourself while enjoying the benefits of this drink.
Wide Variety of Hibiscus Infusions
At MaxiCoffee we have created a wide selection of hibiscus flower teas and infusions. Hibiscus tea can be enjoyed with pure hibiscus flowers, but also in delicious blends, often with rosehip peel. The brands we offer have a real expertise in blending flavours and thus offer you unique and tasty drinks.

Find teas and infusions in loose leaf, in bags or in tins. All have different flavour profiles: hibiscus combined with fruits such as apple pieces, flower infusions, spices or even gourmet foods such as caramel. Delight your taste buds with subtle and refined blends..
Dammann Frères' Hibiscus Tea
The famous French brand Dammann Frères offers a whole selection of hibiscus teas and infusions, in loose leaf or in bags. They all have very different notes to suit a large number of people, but also to offer unique combinations of flavours.

You will find gourmet flavours such as love apples, as well as whole pieces of red or white fruit, or even mixtures of flowers. The flavours proposed by Dammann Frères combine the benefits of hibiscus tea with delicious and intriguing flavours.
By ordering your hibiscus tea at MaxiCoffee, you benefit from many advantages. Once you have found the drink(s) that will make your heart skip a beat, choose the "subscription" option. You can choose how often you want to receive your carcadet, and you also get a 5% discount on the total price. Ordering from MaxiCoffee also means that you can choose from a wide range of quality teas and infusions. Our selections bring together the best products at attractive prices.
Take a look at all
our teas and infusions
on MaxiCoffee.com.