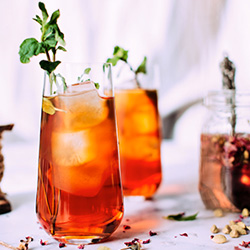 Hibiscus tea  (also known as Carcadet), is a drink made with hibiscus flower mixed with barks and fruit pieces. Hibiscus  contains essential vitamins. It is a reddish colour with a captivating scent and tart, cranberry-like notes.
This refreshing drink can be enjoyed both hot and cold by both children and adults as it is theine and tannin-free.
Discover our whole range of hibiscus teas - the most irresistible blends!