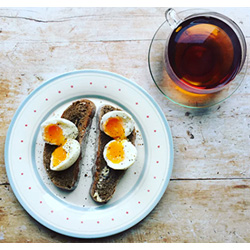 English Breakfast is a blend of 3 black teas: Assam, Ceylon and Kenya. Queen Victoria made it famous and it is now one of the most drunk teas in Europe.
This blend of robust black teas is enjoyed first thing in the morning because of its strong taste and full body. It is often drunk at breakfast, with a drop of milk or a bit of sugar.
Find your English Breakfast on MaxiCoffee from great brands like Dammann Frères, Comptoir Français du Thé, Cosy, Destination etc...