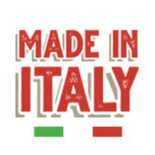 Our wide range of products made in Italy
Discover our range of Italian brands!
Discover our selection of Made in Italy products. At MaxiCoffee, many products are inherited from the traditional Italian know-how . Coffee in all its forms , Italian coffee makers , grinders ... We'll help you choose your products to be as close as possible to the traditions of the country's coffee experts! Discover also all the good deals offered at MaxiCoffee.
Product(s) 1 to 39 / 349 (in total)
Moka Pots
You probably know the famous Moka coffee maker ! This is a traditional Italian coffee maker. It requires ground coffee (with a suitable grind), hot water and can be used on a hotplate (induction or glass-ceramic hobs), or placed on the stove. This technique is recognised and loved all over the world, and is the machine that allows you to get the closest to the true taste of Italian coffee. We offer you a selection of the iconic brand Bialetti.
If you have a manual espresso machine without grinder , traditional coffee machines or machines for gentle methods, Italian coffee grinders are absolutely essential. They allow you to grind your coffee just before consumption so that it is as fresh as possible. You can adjust the grind size to suit the type of machine you are using. In our selection you will find manual mills (hand cranked) of well-known Italian brands offer Italian mills: Bezzera, Fiorenzato, Simonelli, Quick Mill, Biselli and many others.
As you can imagine, at MaxiCoffee we take coffee very seriously! We carefully select our products based on several criteria: their origin, their quality, the human and environmental values of the producers. All the coffees in this selection are roasted in Italy with a unique and traditional know-how.
Coffee in capsules, beans or ground coffee: you are spoilt for choice. Order it in batches to get a 5% discount! Our discovery packs allow you to discover several flavours in one go. Find coffees of all intensities and roast levels: light, medium or strong. We offer a varied range of aromatic notes: floral, fruity, gourmet, roasted...
This selection also includes coffees flavoured with hazelnut, chocolate or vanilla. A number of Italian brands with expertise in roasting are present: Caffe Bonini, Caffe Vergnano, Caffe Mauro, Caffe Pellini, Miscela d'Oro, Zicaffe, Mokador, Lavazza, Illy and many others!
Italian products, a guarantee of expertise and know-how
As we all know, Italians are experts in the world of coffee! Many techniques have been invented or perfected in Italy, the country is full of roasting workshops and offers a huge variety of coffees.
Italian coffee professionals master many techniques to prepare coffee to perfection: automatic machines, manual machines, capsule machines, grinders... We think it is extremely interesting to highlight this know-how in order to make these products known to as many people as possible, and not to lose such beautiful traditions!