Caffè Corsini
Home
Caffè Corsini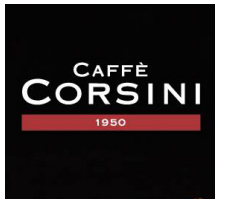 Caffè Corsini is one of the largest coffee roasting facilities in Italy, producing 2500 tonnes of roasted coffee per year. Since its creation in 1950, it has been working to develop and expand the global coffee culture.
The company focuses on research, taste, innovation and the quality of their products. Coffee beans are selected rigorously, roasting is monitored with care. With this constant research in quality and developmen, Caffè Corsini delivers very high quality coffees. The brand is one of the most significant Italian roasters.
Find a large selection of Caffè Corsini coffees on MaxiCoffee : coffee beans, ground coffees, capsules compatible with Nespresso, capsules compatible with Dolce Gusto, capsules compatible with A Modo Mio, etc.