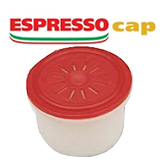 The Espresso Cap capsules will let you make delicious Italian espressos with your Cubo Espresso Cap machine.
The selection of coffee beans, the rigorous roasting and care taken in packaging means that the Espresso Cap capsules offers the best Italian coffee, cup after cup. Discover other drinks such as cappucinno/latte, tea, hot chocolate, etc.
These Espresso Cap capsules are available in packs of 30, 120 and 240 at the best price.
Product(s) 1 to 27 / 27 (in total)