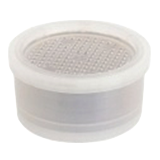 Our universal capsules are compatible with FAP capsule machines , such as Beauty, Kelly, SGL Capsy, SGL Rotary, etc.
Very widespread on the French market, these FAP capsules let you prepare an espresso worthy of the best Italian bars in just a few seconds.
Our range of universal capsules includes different hot drinks like  tea , coffee , decaf coffee and flavoured coffee from some of the best brands : Mokador Castellari , Caffè Vergnano , Cafés Richard , etc...
Please make sure your machine is compatible with FAP capsules