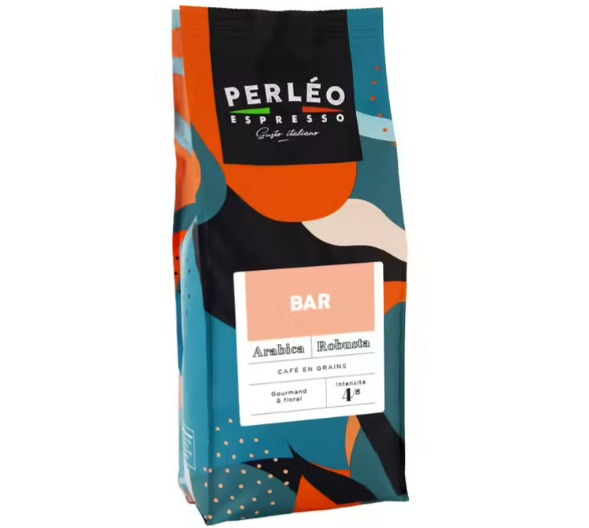 Our Italian coffee beans 1kg
Indulge in the rich, authentic flavours of Italy with our premium Italian Coffee Beans 1kg pack !
Sourced from the finest coffee plantations, our beans promise a delightful, aromatic experience in every sip. Whether it's an energizing morning cup or a relaxing evening treat, our Italian Coffee Beans are the perfect choice for discerning coffee enthusiasts. Order yours now and embrace the true taste of Italy in the comfort of your own home. Cheers to a delightful coffee journey with all our Italian coffee beans !
Product(s) 1 to 39 / 78 (in total)
Discover the rich and aromatic world of Italian Coffee Beans in a convenient 1kg package at MaxiCoffee . Renowned for their exceptional quality and unparalleled flavour, Italian coffee beans have captivated coffee lovers worldwide. Our collection showcases the finest selection of beans sourced from the iconic regions of Italy, where coffee production is steeped in tradition and craftsmanship. Whether you're an aspiring barista or a coffee enthusiast, our Italian Coffee Beans 1kg will elevate your brewing experience to new heights.
Italian Coffee Beans 1kg - Tradition and Productionr
Italian coffee has a long-standing reputation for their tradition and meticulous production methods. Crafted by passionate coffee artisans, these beans are grown in the fertile soils of Italy's coffee regions , benefiting from the optimal climate and terrain. The careful cultivation, harvesting, and processing techniques contribute to the distinct flavours and aromas that make Italian coffee beans truly unique. At MaxiCoffee , we take pride in curating a diverse range of Italian coffee beans in 1kg bags , each telling its own story of craftsmanship and heritage.
Selecting the Best Italian Coffee Beans 1kg
At MaxiCoffee, we understand the importance of selecting the best Italian coffee beans to ensure a memorable coffee experience. Our experts meticulously source beans from renowned Italian roasters, focusing on factors like origin, roast profile, and flavour notes. We offer a variety of options, including single-origin beans and expertly crafted blends, allowing you to find the perfect balance of taste and aroma. With our Coffee Beans 1kg , you can explore a world of flavour and discover your preferred coffee profile, be it bold and robust or smooth and delicate.
Brewing the Perfect Cup of Italian Coffee Beans 1kg
Brewing the perfect cup of Italian coffee starts with the quality of the beans. With our Coffee Beans 1kg , you have the foundation for an exceptional brew. Whether you prefer an espresso, a traditional Moka pot , or a pour-over method, these beans are versatile enough to suit any brewing style. Experiment with different grind sizes and extraction techniques to unlock the full potential of the beans. With their balanced flavours, rich crema, and velvety texture, our coffee beans in 1kg bags will satisfy even the most discerning coffee connoisseurs.
How to Store Italian Coffee Beans 1kg
Proper storage is crucial to preserving the freshness and flavour of Italian coffee beans. After opening your 1kg bag, transfer the beans to an airtight container and store them in a cool, dry place away from direct sunlight. Avoid exposure to moisture, heat, and strong odors, as these can compromise the taste of your coffee. By following these simple storage guidelines, you can enjoy the full-bodied and aromatic experience of our Coffee Beans 1kg for an extended period.
The unique characteristics of Italian coffee beans in 1kg bag
Rich Italian coffee beans possess a distinctive character that sets them apart from other varieties. Their well-balanced profiles often feature notes of dark chocolate, caramel, nuts, and a hint of acidity, resulting in a harmonious and complex flavour profile. With our Italian Coffee 1kg, you can indulge in the authentic taste of Italy in every cup. The 1kg bag size ensures you have an ample supply of these extraordinary beans, allowing you to savor the Italian coffee experience whenever you desire.
Benefits of purchasing an Italian coffee beans 1kg package
Investing in a high quality 1kg Coffee Beans package offers numerous benefits for coffee enthusiasts. Firstly, it provides excellent value for money, as you receive a generous quantity of premium beans at a competitive price. This larger package size is perfect for avid coffee drinkers, home baristas, and even small cafes or offices where coffee consumption is higher. Additionally, purchasing a 1kg bag reduces the frequency of reordering, ensuring a steady supply of exceptional Italian coffee. Experience the convenience, quality, and cost-effectiveness of our Italian Coffee Beans 1kg at MaxiCoffee.