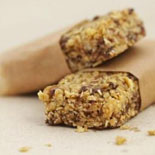 Our selection of cereal bars
Take a break and treat yourself to a delicious and healthy ceral bar.
Many flavours are available such as apricot, almond, grape, honey, coffee,... Cereal bars are for the little ones, but also for the big kids! We offer a selection for vegetarians, but also for people with gluten intolerance. All our gourmet offers are to be discovered on MaxiCoffee.
Often eaten as a snack, before or after exercise. It has many advantages, particularly in calming hunger between two meals. At work, at school or during a physical activity, there is something for everyone!
To choose your cereal bar you should ask yourself why? If you are trying to lose weight, as a complement to your sports session or for your children's snack. From there, you can start to make your choice between hyper-protein or not, fruit, chocolate ... . Don't forget that an energy bar is not good for someone who is just looking to lose weight without doing any exercise.
Sport Cereal Bars
Ideal as a complement to your sports session, cereal bars are your daily ally. They are a perfect snack for short sports sessions, of about 30 minutes for example. When choosing your bar, don't hesitate to look for a high-protein bar. Balanced, healthy and adapted to your sport practice, their pocket size is ideal to be carried everywhere with you. These energy bars for athletes are designed to meet all your needs before, during and after exercise.
Cereal bars, fruit pastes, nougats, almond pastes, protein bars are at the heart of our range of energy bars. At MaxiCoffee, you will find Eat Naturals bars that are perfectly suited to this type of need.
Healthy cereal bars
You want to turn to healthier cereal bars. Then we recommend that you choose cereal bars made from wholegrain or muesli. They contain iron, fibre, magnesium and are low in sugar. You can find Bjorg bars on our website, they are tasty and without sugar or palm oil.
For a great snack:
Fibre-rich cereals: cereal bar
A fruit or equivalent
A bottle of water
Why buy cereal bars from MaxiCoffee?
Why buy cereal bars from MaxiCoffee? MaxiCoffee offers a wide range of cereal bars, but also bars adapted for sportsmen. Our bars are available in different formats, single, batch or discovery. Ideal for testing our wide selection and always at the best price!