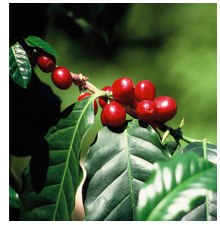 Arabica  is the most widespread type of coffee in the world : it represents 65% of the global coffee production. Arabica coffees, grown at altitude, are fine, rich in flavour . They offer a wide aromatic palette : it's the "Rolls Royce" of coffee.
Coffee lovers usually prefer Arabica coffee to Robusta coffee. In fact, its caffeine content is lower than Robusta . For your information, the 5 biggest Arabica coffee producers are: Brazil , Colombia , Mexico , Ethiopia and Guatemala .
Lots of Arabica coffees are available on MaxiCoffee   : Arabica coffee beans , Arabica ground coffees , capsules compatible with Nespresso and ESE pods .