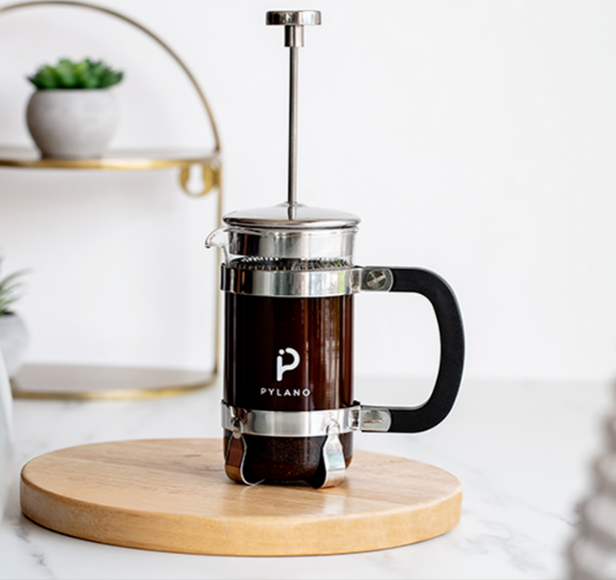 Our selection of 8 cup cafetieres
Experience the ultimate coffee indulgence with our premium 8-cup Cafetiere !
Elevate your mornings and savour every sip of rich, aromatic coffee. Crafted with precision and designed for the true coffee connoisseur, this big cafetiere guarantees a smooth and robust brew every time. Whether you're hosting a brunch or enjoying a peaceful moment alone, our selection of french press ensures a delightful coffee-drinking ritual. Have a look at our whole range of cafetieres .
Product(s) 1 to 24 / 24 (in total)
Welcome to MaxiCoffee, where we bring you the finest coffee accessories to enhance your brewing experience! Here, we're excited to introduce you to the 8 cup cafetiere , a delightful way to brew your favorite coffee at home. Also known as a French press, this classic coffee maker has stood the test of time, delivering rich and aromatic coffee with every brew.
Why Choose an 8 Cup Cafetiere?
There are plenty of reasons to opt for the 8 cup cafetiere when it comes to brewing your coffee. Firstly, its generous capacity allows you to brew up to 8 cups of delicious coffee at once, making it perfect for gatherings or for a caffeine fix throughout the day. Plus, its simple design ensures a hassle-free brewing process that anyone can master.
Another reason to choose the 8 cup cafetiere is its versatility. Unlike some coffee makers that require specific coffee pods or capsules, the 8 cup cafetiere lets you use your favorite ground coffee. This means you have the freedom to explore various coffee blends and discover new flavors that suit your taste buds.
Furthermore, the 8 cup cafetiere gives you full control over the brewing process. You can adjust the grind size of your coffee grounds, experimenting with coarse grind settings to find the perfect balance of flavors. Additionally, the brewing time is in your hands, allowing you to customize the strength of your coffee just the way you like it.
Using an 8 cup cafetiere is incredibly straightforward and guarantees a fantastic cup of coffee. Here's a step-by-step guide to help you get started:
Tips for the Perfect 8 Cup Cafetiere Coffee
Once you've mastered the art of brewing with your 8 cup cafetiere, these handy tips will take your coffee game to the next level:
1. Use Freshly Ground Coffee: For the most flavorful results, always use freshly ground coffee beans. Grind your coffee coarsely to ensure a smooth and robust brew.
2. Get the Water Temperature Right: Heat your water to just below boiling point, around 200°F (93°C). This temperature brings out the best flavors from your coffee without scalding the grounds.
3. Mind the Brew Time: Experiment with different brew times to find your sweet spot. Typically, a brew time of 4 minutes works well, but you can adjust it to your taste preferences.
4. Plunge Gently: When pressing down the plunger, do it gently and steadily. Avoid applying too much force, as it may agitate the coffee grounds and result in a bitter brew.
5. Clean Your Cafetiere Regularly: Proper maintenance ensures the longevity of your 8 cup cafetiere and keeps your coffee tasting fresh. Refer to the cleaning and maintenance guide below for more details.
Maintaining your 8 cup cafetiere is essential to preserve its performance and extend its lifespan. Follow these simple steps to keep your coffee maker in top shape:
Regular Cleaning:
After each use, disassemble the cafetiere and hand wash the individual parts with warm water. Use a gentle dish soap if needed, but avoid abrasive cleaners that could damage the materials.
Deep Cleaning:
For a more thorough cleaning, soak the cafetiere's parts in a mixture of warm water and a tablespoon of baking soda. Let them sit for about 15 minutes before rinsing thoroughly.