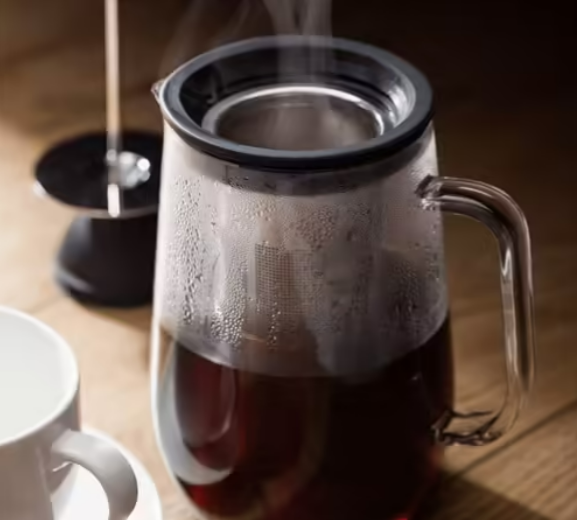 Our selection of glass cafetiere
Indulge in the rich aroma and unparalleled taste of freshly brewed coffee with a glass cafetiere .
Crafted with meticulous attention to detail, this classical-designed masterpiece guarantees a smoother and more refined coffee experience. Enjoy the perfect balance of heat retention and precise brewing to unlock the full potential of your favourite coffee beans, thanks to its high-quality glass body and stainless steel plunger to impress your guests with every brew. Have a look at all our cafetieres .
Product(s) 1 to 39 / 46 (in total)
Welcome to MaxiCoffee , your one-stop destination for all things coffee-related. Today, we're excited to introduce you to the world of Glass Cafetieres – the perfect blend of elegance and functionality for coffee enthusiasts.
What is a Glass Cafetiere?
If you're new to the world of coffee brewing, you might be wondering what exactly a Glass Cafetiere is. Well, it's simply a type of coffee maker, also known as a French press or cafetiere, made with a glass carafe and a plunger mechanism. The glass carafe allows you to witness the captivating brewing process as it unfolds, making it not only a coffee maker but also a visual delight.
What are the different types of Glass Cafetieres?
When it comes to Glass Cafetieres, you'll find a variety of options to suit your taste and style.
Bodum Glass Cafetiere:
Bodum is a well-established brand known for producing top-quality coffee makers, and their Glass Cafetieres are no exception. Crafted with premium borosilicate glass and a stainless steel plunger, Bodum Glass Cafetieres offer durability and a timeless design that complements any kitchen.
Pylano Glass Cafetiere:
Pylano takes a modern approach to the classic Glass Cafetiere. With sleek lines and contemporary features, their Glass Cafetieres not only brew exceptional coffee but also add a touch of sophistication to your coffee brewing ritual.
At MaxiCoffee, we take pride in curating a diverse collection of Glass Cafetieres that cater to every coffee lover's preferences. Here's why you should choose a Glass Cafetiere:
Key Features of a Glass Cafetiere
1. High-Quality Glass: Our durable borosilicate glass ensures safety and longevity.
2. Stainless Steel Plunger: Extract the full flavor and aroma from your coffee grounds.
3. Ergonomic Handle: Pour coffee comfortably and securely with our cafetieres.
4. Various Sizes: Find the perfect size for your needs, from single cup to large carafe.
Experience the joy of brewing coffee with a classic and timeless glass cafetiere. Explore our selection now and take the first step towards your coffee journey!
If you have questions or need assistance choosing the perfect Glass Cafetiere, our coffee experts are here to help. Happy brewing!