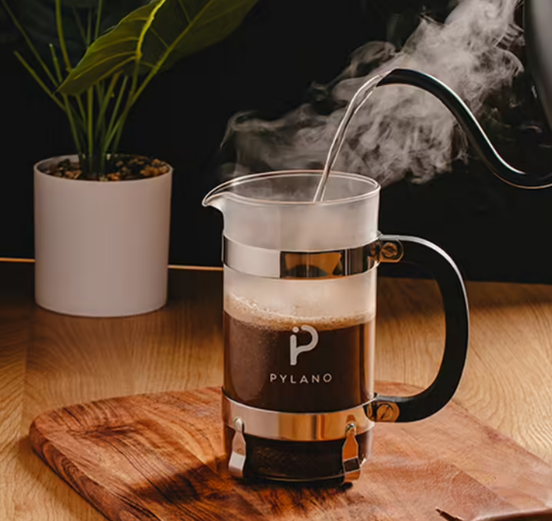 Our selection of large cafetiere
Indulge in the ultimate coffee experience with our selection of large cafetiere .
Crafted to perfection, this stylish brewer delivers rich, full-bodied flavours that will delight your taste buds. Whether it's a morning ritual or an afternoon pick-me-up, our cafetiere guarantees a smooth and satisfying cuppa every time. Share the joy of coffee with friends and family, as it serves up to 12 cups in one go. Have a look at all our cafetiere .
Product(s) 1 to 29 / 29 (in total)
Welcome to MaxiCoffee, your one-stop destination for all things coffee! If you're a coffee enthusiast who loves sharing a delightful brew with friends and family, you've come to the right place. Today, we'll explore the world of large cafetieres and why they are an essential addition to your coffee brewing collection.
Why Choose a Large Cafetiere?
When it comes to making coffee for a group of coffee lovers, a large cafetiere is the ultimate companion. Also known as a French press or a coffee press, this elegant and straightforward brewing device allows you to brew a generous amount of coffee at once, ensuring that everyone gets their caffeine fix without having to wait for individual cups to be prepared. It's the perfect centerpiece for gatherings, brunches, or lazy Sunday mornings when you want to share your love for coffee with your favorite people.
Large cafetieres are designed to accommodate more ground coffee and water, making them ideal for brewing larger quantities of your favorite coffee blend. With their simple yet effective design, they preserve the coffee's natural oils and flavors, delivering a rich and full-bodied cup with every pour. Whether you're a fan of traditional filter coffee or love experimenting with different coarse grind coffee beans, a large cafetiere is a versatile tool that caters to all your brewing preferences.
What Are the Different Large Cafetieres?
At MaxiCoffee, we offer a wide range of large cafetieres to suit every coffee lover's needs. From various capacities to sleek designs, you're sure to find the perfect one for your coffee corner. Our large cafetieres come in different materials, including stainless steel, glass, and durable plastics, ensuring that you can choose the one that matches your style and budget.
For those who prefer a classic and elegant look, our glass large cafetières are a popular choice. These transparent beauties not only brew fantastic coffee but also add a touch of sophistication to your coffee-serving experience. If you're looking for something more durable and travel-friendly, our stainless steel options are designed to withstand the rigors of daily use and maintain the coffee's temperature for a more extended period.
No matter which large cafetiere you choose, rest assured that it will be a reliable companion for countless coffee-brewing adventures, making every sip a moment to cherish.
Using a large cafetiere is a breeze, even if you're new to the world of French press brewing. Here's a simple step-by-step guide to help you brew the perfect coffee every time:
Tips for the Perfect Large Cafetiere Coffee
Now that you know how to use your large cafetière let's dive into some expert tips to elevate your coffee brewing game:
1. Choose Quality Coffee: The foundation of a great cup of coffee starts with the beans. Invest in freshly roasted coffee beans and consider grinding them just before brewing for the freshest flavor.
2. Coarse Grind is Key: For the best results in a French press, opt for coarsely ground coffee. Finely ground coffee can lead to over-extraction and a bitter taste, while a coarse grind allows for a well-balanced and flavorful brew.
3. Proper Coffee-to-Water Ratio: As a general rule, use 1 part coffee (coarse ground) to 15 parts hot water. Feel free to adjust the ratio according to your preference, but remember that the coffee-to-water ratio plays a vital role in the final taste.
4. Water Temperature and Brew Time: For the best extraction, use hot water just below boiling point, around 195-205°F (90-96°C). Let the coffee steep for about 4 minutes before pressing the plunger gently.
5. Preheat the Cafetiere: To keep your coffee hot for longer, preheat the cafetiere with hot water before adding the ground coffee and hot water for brewing.
6. Experiment with Brew Time: The beauty of a large cafetiere is that you can adjust the brew time to suit your taste preferences. A longer brew time typically results in a stronger and bolder flavor.
Cleaning and Maintenance Guide of Your Large Cafetiere
Regular maintenance and cleaning are essential to keep your large cafetiere performing at its best and to ensure the longevity of the brewing device. Here's a simple guide to help you maintain your cafetiere:
1. Disassemble and Clean: After each use, disassemble the cafetiere and rinse the components with warm water to remove any remaining coffee grounds and oils.
2. Deep Cleaning: Every once in a while, it's a good idea to give your cafetiere a thorough cleaning. You can use a mixture of water and mild detergent to clean the glass or stainless steel components, making sure to rinse them thoroughly to remove any soapy residue.
3. Check for Wear and Tear: Regularly inspect the plunger, filter, and other parts for any signs of wear and tear. If you notice any damage, consider replacing the worn-out components to maintain the cafetiere's effectiveness.
4. Store Properly: When not in use, store your large cafetiere in a dry and clean place. Avoid keeping coffee grounds or water in the cafetiere for extended periods, as this can lead to stains and unpleasant odors.
5. Handle with Care: While large cafetieres are designed to be robust, it's essential to handle them with care to avoid accidental drops or damage.
By following these simple maintenance steps, you can ensure that your large cafetiere remains in top-notch condition, ready to brew delicious coffee whenever you desire.
At MaxiCoffee, we understand the joy of sharing a perfect cup of coffee with your loved ones. That's why we offer a wide selection of high-quality large cafetieres to cater to all your coffee brewing needs. So, why wait? Explore our collection and discover the perfect large cafetiere for your coffee journey!