A spare glass beaker for 8-cup (1 litre) BODUM French Press coffee maker. This spare Bodum glass beaker is suitable for all BODUM 8-cup French Press coffee makers, except the "New Chambord" and double wall coffee makers.
This glass beaker is suitable for the following Bodum models (1 litre/ 8 cups) : BRAZIL , BISTRO , KENYA , CREMA , CHAMBORD, CAFFETTIERA, JESPER & PRESSO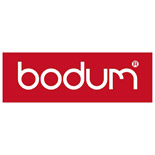 BODUM
Bodum is a family business, founded in Copenhagen by Peter Bodum in 1944. The founder's concept: to develop functional and quality products at an affordable price. Bodum products are sold in 55 countries around the world.
Since 1974, Bodum has produced more than 100 million French Press coffee makers and 30 million teapots.
Maxicoffee Bestsellers Rank