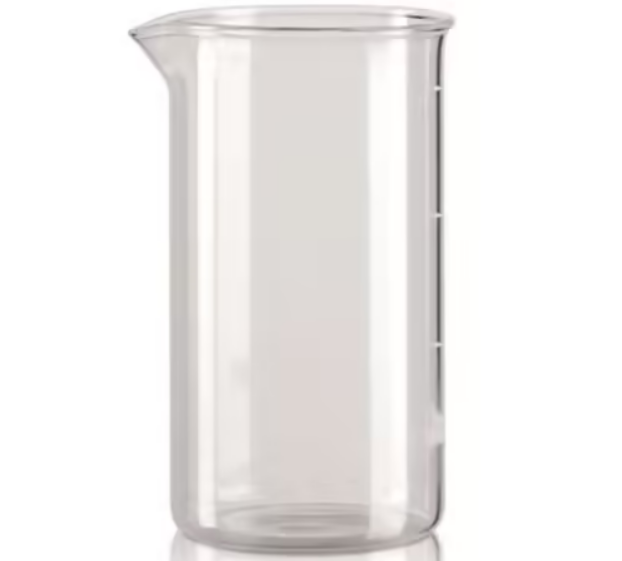 Selection of cafetiere remplacement glass
Revive your morning coffee ritual with our selection of premium cafetiere replacement glass !
Enjoy a seamless coffee experience with durable, heat-resistant glass, ensuring no more accidental cracks or spills. Elevate your coffee rituals and order your replacement glass now for that satisfying, aromatic cup of joe every time. Don't let a broken glass stop your coffee indulgence – get yours today! Have look at all our cafetieres .
Product(s) 1 to 11 / 11 (in total)
If you're a coffee lover who owns a cafetiere , you know how essential it is to have a fully functional French press to brew that perfect cup of joe. However, accidents happen, and sometimes, the glass on your cafetiere may break or crack, leaving you unable to enjoy your daily dose of freshly brewed coffee. But worry not! MaxiCoffee has you covered with our premium Cafetiere Replacement Glass.
Why Choose Our Cafetiere Replacement Glass?
At MaxiCoffee, we understand the frustration of dealing with a broken cafetiere. That's why we take pride in offering top-notch replacement glass that not only fits perfectly but also enhances your coffee brewing experience. Here's why our cafetiere replacement glass stands out:
Unparalleled Durability: Our replacement glass is made from high-quality materials, ensuring exceptional durability. You can rely on it to withstand the daily rigors of coffee brewing.
Crystal Clear Clarity: Say goodbye to cloudy or hazy glass that affects the aesthetics of your coffee-making ritual. Our replacement glass boasts crystal-clear clarity, allowing you to witness the beauty of the brewing process.
Perfect Fit: We offer replacement glass that precisely fits popular cafetiere brands like Bodum and Pylano. No need to worry about compatibility issues – simply select the suitable replacement glass for your model.
Enhanced Safety: Safety is paramount, especially when dealing with glassware. Our replacement glass is designed to be shatter-resistant, reducing the risk of accidents in the kitchen.
Improved Coffee Flavor: Unlike inferior quality glass, our replacement glass does not interfere with the flavor of your coffee. You'll taste the pure, unadulterated notes of your favorite brew.
How to Replace Your Cafetiere Glass
Replacing your cafetiere glass might sound daunting, but with our step-by-step guide, it's a breeze! Here's how you can do it in just a few simple steps:
Prepare Your Workspace: Find a clean, flat surface to work on, and gather all the necessary tools, including your new replacement glass.
Disassemble Your Cafetiere: Carefully take apart your cafetiere, removing the plunger and any other components until you're left with the old, broken glass.
Remove Old Glass: Gently dispose of the old glass and ensure there are no glass fragments left inside the cafetiere.
Install the New Glass: Take the new cafetiere replacement glass and place it securely into the designated slot. Ensure it sits evenly and snugly.
Reassemble the Cafetiere: Put back all the components you removed earlier, such as the plunger, mesh filter, and lid.
Test the Cafetiere: Before using it with coffee, add some water to the cafetiere and press the plunger down a few times to check if everything fits and works correctly.
Enjoy Your Coffee: Once you've completed these steps, your cafetiere is ready to brew delicious coffee. Treat yourself to your favorite coffee blend and savor the taste of success!
Maintenance and Care Tips for Cafetiere Glass Replacement
To ensure the longevity of your cafetiere replacement glass and maintain its pristine condition, follow these essential maintenance tips:
Hand Washing Only: To prevent damage to the replacement glass, always wash it by hand using mild detergent and warm water. Avoid abrasive sponges or harsh cleaning agents.
Handle with Care: While our replacement glass is designed for durability, it's still glass and needs to be handled with care. Avoid banging or dropping the cafetiere to minimize the risk of breakage.
Regular Inspections: Periodically check your replacement glass for any signs of wear or damage. If you notice any chips or cracks, replace the glass promptly to avoid accidents.
Store Safely: When not in use, store your cafetiere in a secure, dry place to protect it from potential damage.
At MaxiCoffee, we offer a wide range of cafetiere replacement glass options, ensuring you find the perfect fit for your coffee maker. Here are some popular choices:
Bodum Cafetiere Replacement Glass
Bodum cafetieres are renowned for their elegant design and exceptional brewing capabilities. If you own a Bodum cafetiere and need a replacement glass, look no further! We stock high-quality, authentic Bodum replacement glass that seamlessly fits into your cafetiere, restoring it to its former glory.
Pylano Cafetiere Replacement Glass
Pylano cafetieres are beloved for their modern designs and outstanding performance. If you own a Pylano cafetiere and need a replacement glass, you can count on MaxiCoffee to have the solution.
We offer a diverse selection of Pylano cafetiere replacement glass that ensures a precise fit and compatibility with your specific Pylano model.
Designed with durability in mind, our Pylano replacement glasses are engineered to endure frequent use and maintain their transparency for years to come.
MaxiCoffee is committed to providing coffee enthusiasts like you with top-notch cafetiere replacement glass. With our extensive selection, helpful maintenance tips, and exceptional customer service, you can confidently find the perfect replacement glass for your French press. Let's keep the coffee flowing!