Matcha Latte is based on Japanese green tea. It is rich in antioxidants and has a refreshing and very unique flavour. Full of sweetness and wonderfully creamy, Matcha Latte Mix can be enjoyed either hot or cold, and also added to an ice latte or smoothie. 340g box.
Can be served both cold and hot
The flavour of matcha resembles green tea, but is rounder and not quite as bitter.
Milk protein is added to our Matcha Latte powder, which rounds off the nuances and depending on what you feel like and your mood, it can be served cold or hot, with water, ordinary milk, soy milk or one of the other many vegan milk alternatives.
Kav America recommend using 2.5 tablespoons powder to 2 dl liquid if you would like a classic latte. This gives a full-bodied flavour and delicious sweetness. By using less powder, the flavour of the matcha comes more into the foreground, while the sweetness and the milk go more into the background.
Great in smoothies and cakes
In a smoothie, Matcha Latte will add both a fresh and sweet touch to the experience, which is good together with fruit as well as vegetables.
You can use Matcha Latte in other things than just beverages. Ice-cream, creams, cakes and bread are given a festive colour that attracts attention and curiosity. With its soft flavour, Matcha Latte powder matches most desserts and, basically, the sky is the limit.
Ingredients:
Sugar, maltodextrin, coconut oil, matcha tea 6%, natural flavors, MILK protein, antioxidant: E340, emulsifier: E471, E322 (SOY lecithin), anti-caking agent: E341, salt.
Nutrition Facts per 100 g:
Energy2008 kJ / 478 kcal
Fat 18 g – of which saturated fats 14 g
Carbohydrates 76 g – of which sugars 52 g
Dietary fibre 2 g
Protein 2 g
Salt 0.12 g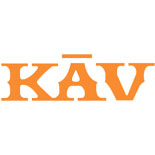 Kav America
Kav America is a California-based brand which offers a range of flavoursome drinks. Its luxurious and decadent products include cocoa drinks and exotic tea drinks as well as refreshing coffee-based frappé mixes. Some fifty flavours are available. All Kav America products are certified GMO-free and kosher.
Maxicoffee Bestsellers Rank