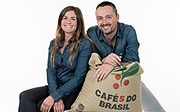 Pre-Ground Coffee Beans
The perfect coffee: " It's above all, a question of grind " . If you don't have a Coffee Grinder , you'll need to start by choosing a coffee grind best adapted to your brewing method: Drip Filter Coffee Grind , Moka Pot , French Press , Hario , Chemex .
If you are not sure which grind to choose, go straight to our entire Ground Coffee range . You will be able to find the coffee you are looking for by selecting filters matching your criteria. We have selected our Favourite Brands (for the majority, coffees beans roasted in France and Italy: Illy , Lucaffé , Destination , Pellini , Bialetti ) , including a range of Organic Ground Coffees and Flavoured Ground Coffees to meet the needs of all coffee lovers, from Espresso to Cold Brews, while staying true to our guiding principle: Quality First!
Categories of Ground Coffee
Bestsellers Ground Coffee