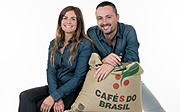 Meet Camille & Lionel, coffee expert and roaster for Cafés Lugat
MaxiCoffee has selected the best coffees for Professionals. We have set up big packs to help you bring the costs down and meet professional consumption levels.
Whether you have a coffee shop, an espresso bar, a restaurant, a hotel, a big office or catering needs for a special function, this section is for you!
Product(s) 1 to 22 / 22 (in total)