Our Christmas gift ideas
Need a little inspiration?
Browse our categories to find the perfect gift for your tea, coffee or chocolate lover.
Our exclusives:
unique gifts for your loved ones
Christmas Blend beans or capsules from Cafés Lugat that take you to Provence!
This coffee has a subtle attack and notes of candied citrus fruits, offering a round and smooth body, reminiscent of milk chocolate. A delicious finish, with hints of nougat and almond.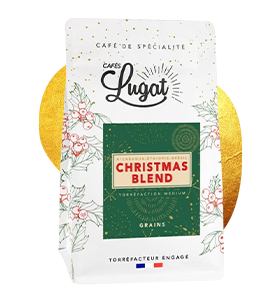 Find pleasure in simplicity!
Discover a selection of small gifts, at small prices, that will delight your friends taste buds or colleagues for a a secret santa.
Even more gift ideas
You are sure to please them with these special selections!
Even more gift ideas
You are sure to please them with these special selections!
Best Christmas Gift Ideas 2022!
With Christmas fast approaching, our MaxiCoffee teams will help you in your quest for an original and personalised gift.


Christmas Gift Idea for Coffee Lovers
As a Coffee Expert, at MaxiCoffee we like to advise you on the world of coffee and help you discover coffee Christmas gifts. Whether it's a coffee bean machine, specialty coffee or a coffee subscription, you'll find the perfect Christmas gift idea!

Christmas Gift Ideas for Tea Lovers
At MaxiCoffee we are experts in the world of coffee, but we also offer you a wide range of teas and infusions. Dammann et frères, Palais des thés or Kusmi tea, we have gathered here for you the best brands!

Christmas Gift Ideas for Chocolate Lovers
For those with a sweet tooth, we suggest you discover unique chocolate boxes. Dark, milk or white chocolate, there is something for everyone. What could be better than the comfort of chocolate to spend the best Christmas ever?


Our Last Minute Christmas Gift Ideas!
A boxed set as a Christmas gift idea
If you are looking for an original gift idea, we have just what you need! Discover the world of tea or coffee through a gift set. It's a Christmas gift that's sure to please!

Our Cheap Christmas Gift Ideas
Are you on a budget? At MaxiCoffee, we have made a selection of cheap gifts. Treat your loved ones without counting the cost!