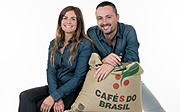 Ground Coffee
Ground coffee is the format through which coffee is most frequently consumed. There are many types of ground coffee to suit the different types of coffee makers on the market.
Making a good coffee: "It's all about the grind".

Depending on the coffee maker or coffee machine you have, the grind is not the same! That's why we have provided a breakdown of grinds by type of coffee maker: filter , Italian , plunger , Hario , Chemex or espresso .
To be as thorough as possible, we have selected our favourite brands (for the most part, coffees roasted in France and Italy) and have put together a range of organic ground coffees and flavoured ground coffees (or scented coffees) to meet the demands of all coffee lovers, while maintaining our motto "The choice of quality".
Also, if you prefer to buy coffee beans , we also offer you the best coffee grinders on the market.
Product(s) 1 to 79 / 221 (in total)