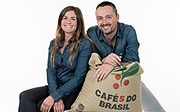 Discover our ground coffee selection
MaxiCoffee selects the best brands of ground coffee to guarantee you a unique and delicious coffee .
There is something for everyone. We also offer freshly roasted and ground coffees from the best roasters , including Cafés Lugat : coffees roasted and ground by hand in our shop. Freshness and quality are the order of the day! Choose the ground coffee that suits you!
Product(s) 1 to 39 / 246 (in total)