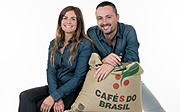 Camille & Lionel, coffee expert and roaster for Cafés Lugat
From dozens of brands, MaxiCoffee has selected the most suitable coffees for professional use. To bring the costs down and meet professional consumption levels, we are selling them as a bulk pack.
Whether you have a Coffee shop or an Espresso Bar or just want to buy as a group, these coffees are for you!
Product(s) 1 to 17 / 17 (in total)