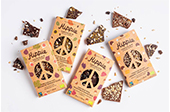 Our range of chocolate bars is a real treat for the taste buds.
Our team has unearthed the most decadent chocolates for your enjoyment, including well-known brands such as: Dolfin , Monbana and Café-Tasse .
Be surprised by the unique flavours on offer, which will help you to rediscover the magic of the perfect union between chocolate and coffee !