House Blend by Cafés Lugat is a blend of quality Arabica from Ethiopia, Guatemala and Colombia. For a balanced coffee with citrus notes, fresh and intense. 250g pack.
Main characteristics:
Intensity
Balanced Coffee
Appellation

Blend
origin
Ethiopia, Guatemala and Colombia
Roast
roasted in
France (Aquitaine)
variety

100% Arabica
Plantation

Altitude 1,500-1,800M

Manual and Selective Harvest
Process

Washed

Natural
What Christophe, roaster at Cafés Lugat, has to say:
Christophe* likes:

- Its fruity notes

- Its long aftertaste

- Its freshness

* The crazy roaster (Cafés Lugat)
The history of Cafés Lugat:
Lionel Lugat is the legendary roaster at MaxiCoffee . Over the years, he has surrounded himself with an expert team of roasters.
This coffee specialist , judge in the French Coffee Championships and expert columnist for our coffee company tells the story of Cafés Lugat and his passion for coffee roasting below.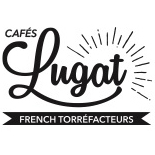 Cafés Lugat
Cafés Lugat boasts a team of enthusiastic young coffee roasters who select exceptional coffees and create irresistible recipes just for you. Through their range of coffee beans, ground coffees and Nespresso® compatible capsules, their mission is to bring you the unique flavour and aromas from the world's best coffee-producing areas!
Their passion for coffee has even won them awards. Marco, the brand's head roaster, was awarded the French Barista Championship title at the 2017 French Championships.
Maxicoffee Bestsellers Rank