This Bodum Brazil French Press coffee maker has a capacity for 3 cups (or 350ml). Borosilicate glass jug with polypropylene handle and base. Dishwasher-safe.
Bodum Brazil French Press Coffee Maker
Attractive and functional design. Made in Europe.
The French press coffee maker is the simplest of all brewing systems, where coarsely ground beans meet hot water right off the boil. The right temperature (92–96 °C, 195–205 °F) brings the optimal extraction power for the essential oils in the beans to develop their full flavor profile in just four minutes. An easy press on the plunger locks the grinds at the bottom of the glass carafe and stops the brewing process.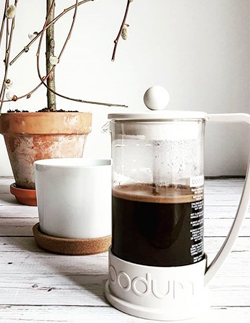 EXCLUSIVE BODUM INFUSION SYSTEM : The French Press is widely acclaimed by roasters around the world for its ideal infusing method (4 to 5 minutes), revealing all the subtleties and aromas of coffee.
BODUM DESIGN : Elegant and simple lines so you can display this French Press on a table or in your kitchen. Its large handle is far enough from the jug so you do not burn yourself when pouring your coffee.
Leader on the French Press market, Bodum is a guarantee of quality.
It is one of the easiest way to get a good cup of coffee: use coarsely ground coffee, hot water, leave to infuse for 4 to 5 minutes before pushing the plunger down.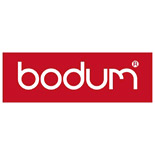 BODUM
Bodum is a family business, founded in Copenhagen by Peter Bodum in 1944. The founder's concept: to develop functional and quality products at an affordable price. Bodum products are sold in 55 countries around the world.
Since 1974, Bodum has produced more than 100 million French Press coffee makers and 30 million teapots.
Maxicoffee Bestsellers Rank
| Bodum Brazil French Press in Black with Logo - 3 cups | |
| --- | --- |
| Dimensions (WxDxH) | 115 x 80 x 160 mm |
| Jug material | Glass |
| Capacity | 3 tasse(s) |
| Capacity | 35 cl |
| Dominant colour(s) | Transparent, Black |
| Specifications | Regular |
| Cleaning | Dishwasher safe |
| Plunger type | Stainless steel mesh |
| EAN : | 727015999685 |