Enjoy these 12 delicious dark chocolate, raspberry and crunchy milk mini-bars from Café-Tasse. A rare chocolate discovered after years of research.
Size: 1 bag of 12 mini-bars (6 dark raspberry and 6 crunchy milk)
Café Tasse - Bag of 12 mini dark raspberry, and crunchy milk bars

| | | |
| --- | --- | --- |
| Type of chocolate | Format | Made in |
| | | |
| Dark and milk chocolate | Neapolitan | Belgium |
The best of Belgian chocolate:

Imagine a piece of Café-Tasse chocolate melting in your mouth with each sip of a carefully measured espresso...
With Café-Tasse, a new style is born. Find the crunchiness of dark chocolate with the sweetness of raspberry and the crunchiness of crunchy milk, for your greatest pleasure!
It is the luxury of a chocolate that crosses borders, a whole art of living that we invite you to taste.
The world of Café-Tasse:
Since childhood, chocolate has been a part of our lives. With its strong taste heritage and the history of the great chocolate masters in its luggage, Café-Tasse offers us the same spirit of good chocolate that we have loved since our childhood.
Its multiple varieties of superior and constant quality, including the unavoidable "petit carré", have always echoed a tradition marked by poetry and gourmandise. Its flavors, mixtures of travel, modernity and traditional recipes, let appear this contrast between the flavors of the past and those of today.
Its chocolate collections are true artist's proofs of evolving taste, like paintings whose pigments and technique are constantly reworked. All over the world, Café-Tasse continues to put its experience and know-how at the service of our desires for sensory escapism.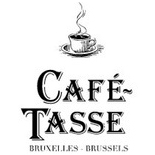 Café-Tasse
For more than 20 years, Belgian chocolate maker Café-Tasse has been delighting taste buds everywhere with subtly flavoured and beautifully packaged chocolate.
Savouring the taste of Café-Tasse chocolate is not just about paying homage to the great master chocolate makers but also about immersing oneself in the history of chocolate.
| Café Tasse - Bag of 12 mini dark raspberry, and crunchy milk bars | |
| --- | --- |
| Type of chocolate | Dark chocolate, Milk Chocolate, Assortment |
| Type of product | Neapolitans , Tablets and mini-tablets |
| Packaging | By 1 |
| Weight | 108 g |
| EAN : | 5400219805352 |