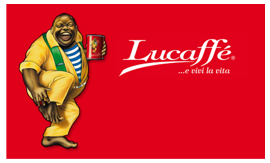 Our Lucaffé selection
Lucaffé roasts and packs its coffees at its roasting facility in Carpenedolo, Italy.
Luca Venturelli (roasting founder) tests and approves all new coffees himself: a guarantee of quality for a refined cup of coffee with a perfect balance of flavours. Although it is a more expensive method, Lucaffé ensures tradition is kept by carrying out a rigorous and separate roasting (for its blends), to obtain the best results. You will find on MaxiCoffee a large selection of Lucaffé's coffees : coffee beans , ESE pods and  ground coffees !
Café Lucaffé | Made in Italy
Café Lucaffé | Coffee Beans
Café Lucaffé | Wholesale Coffee Beans
Café Lucaffé | ESE pods
Café Lucaffé | All Ground Coffees
Café Lucaffé | Coffee beans 1kg
Café Lucaffé | Decaf Coffee Beans
Product(s) 1 to 39 / 43 (in total)